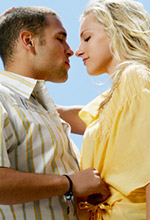 What the Stars Hold for Star-Crossed Lovers
While the fate-o-meter may seem to have all the say in our relationship destinies, there are some key signs to look out for that will predict your future in love: either lead you down the path to marriage or an eventual break up.
When the Going Gets Tough
Relationships can be pretty easy when everything is going well between the two of you, but when major challenges arise, how well do you two work together to overcome them? If you two have weathered many storms together and have come out stronger than when you started, you know you've got a good thing going.
Always Willing to Compromise
Combining two lives means adjustment and concessions. When the love is strong and the connection is right, anything is solvable as long as the balance of give and take is healthy.
You Bring Out the Best in One Another
There's a reason why this phrase is used in so many romance stories. Indeed, there will be people throughout your life who will challenge you to be the best you can be, who believe in you, perhaps even more than you believe in yourself. If you can find this quality in your significant other, you've taken a huge step closer to your match made in heaven. Get personalized advice, contact a psychic today!
Ultimate Trust
Hard to win, easy to lose, as the saying goes. To give your heart fully to someone, absolute trust must be firmly in place. If you two can trust one another implicitly, no matter how delicate the situation, feeling, or insecurity, you have the foundation for an amazing partnership.
"Real trust takes real time." – Reed ext. 5105
Comfortable In Being Yourselves
Just as life might require you to wear many hats throughout the day, it's imperative that you are able to come home to a partner with whom you can completely be yourself. To establish that level of trust and comfort with one another is an eloquent sign that you have chosen your partner well.
Annoying Habits are Cute
Everyone has their own personal quirks, some of which can easily rub another the wrong way at times. When your partner finds those idiosyncrasies adorable instead of annoying, you've got a keeper for sure!
"Is there such a thing as true love? Yes there is!" – Marin ext. 5113