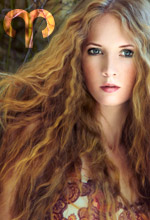 Learning to date and love an Aries can be easy if you're attracted to their spontaneous and energetic behavior. Aries love to be in love!
Be Ready for Anything
If you want to love and date an Aries, you are obviously drawn to their magnetic, bubbly style and their unpredictable, spontaneous behavior. As the first sign of the zodiac, they love that feeling of things being new and exciting, especially when it comes to romance.
To be an Aries is to dive headlong into love. Romance is fast and furious and even more exciting when it's fraught with a slight bit of friction, just to keep it spicy. They prefer to be pursued, although they've got the ability to be the pursuer and win their conquest, they don't feel the need to. That confidence is very attractive to some signs, especially to another Aries. Want to learn more about your Aries lover? Talk with Psychic Joyce ext. 9598 who can also provide astrological insights.
Dating an Aries
To date an Aries is to love the rush of unpredictability. They love being out and about and being seen; especially being with someone who has won their admiration, who treats them as the special person they are. Remember to keep it fresh, like every date is the first date. That is the magic that Aries thrives on in dating, and doing so will quickly warm them to your attentions. Despite being a motivating force of nature, they are also quite sentimental when it comes to love, and they are extremely romantic.
Love an Aries
Aries need a certain amount of freedom, but that's not to be mistaken for not wanting to be with you. They can become annoyed if you give them too much freedom and if you fill your time with other pursuits just a little too often. This stems not from being worried about being replaced by a person or a hobby, but because they always want to be reminded that they are number one in your life. Give them that, and they will give you the same in return. Cheat on an Aries, or take away from their status as number one, and you can expect the same, intensified. They are perfectly content to share their lives with that special someone as long as that someone realizes they also need space, but not too much alone time. It's a fine line to walk, but if you care enough about them, you'll figure it out. It's easy to love an Aries; they aren't difficult to get along with, and they just won't settle for anyone not willing to provide them with both the excitement of new love and the security of old love, coupled with the freedom to be their own person.
Love making is deep, emotional and primal. Aries are extremely passionate and don't mind being on top, but they are also romantic and, hopefully, so are you. They love being out under the stars wrapped in your arms, reminiscing about all the memorable moments you've shared both in and out of bed. Create moments with them that leave this lasting impression, and enjoy reliving them again and again in new and fantastic ways. To love and date an Aries is to love the excitement of life itself.
"Explore your definition of sexy. Be sexy! Push out those thoughts of flaws and think irresistible." – Psychic Deejay ext. 5435