Telling a man what you want in bed may be a bit scary, but if you take a moment to daydream and create your own fantasy with him that can make it easier to share with him.
You Have to Tell Him Everything You Want… and He Wants to Hear It!
Ladies, are you shy about your encounters in bed with your men? Do you feel a strain between you and him when in the sheets? Sometimes, do you find you're not satisfied after lovemaking?
I'm betting he has some of the same feelings and insecurities you do. It seems to us women, especially if we're a little on the bashful side when it comes to naked encounters, men have all the fun. Not all of them do. Does that surprise you?
Men have fragile egos. Yes, their manhoods respond in predictable ways. They always seem to reach the finish line, even if you haven't when they do or you never seem to be able to. But what you may not know about most men is, nothing turns them on more than seeing that they have the ability to get you excited.
Women want to be beautiful, sex goddesses for their men. Men want to be shining Greek heroes for their women, too. What a man won't tell you is that if you sound like you're having a good time, move as though he's driving you insane, and act like it's the best sex you've ever had together, his head may just explode with joy. You'll find he's more passionate, responsive and apt to try new things to please you. Get personalized advice, contact a psychic today!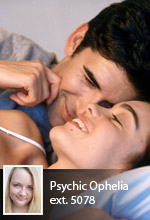 But what exactly does please the shy, demure woman? We want to feel we pleasure our men most of all, which is why we often suppress our own fantasies in place of his. Consider, though, he may be feeling exactly the same as we do. His issue is a bit different, in that a man's special soldier can water the jungle with little stimulation, but, believe it, he's just dying to tease and pleasure and please you just as much as you want to do so with him.
Women, rev up your fantasies. Daydream. Think of fun ways you, yourself, might like to encounter lovemaking. Then do the unthinkable. Tell him about those fantasies. Most men will rip your clothes off and carry you to bed just hearing you're thinking about sex, too! And he wants to know how to make you feel good. When he senses you enjoying yourself, it makes him feel the same way you do when you pleasure him. It really is a two-way street.
Take it a step further. In the act, tell him exactly what you want, when you want it. If you want your body stroked in a certain way, don't hesitate to ask him. Even better, beg him. He'll love it! Remember, he really does want you to love sex as much as he does, and as you grow into a more open and honest rapport about what makes you both feel good under the sheets, or on the couch, or in the kitchen floor, your sex life will only get better and better.
One more trick, and I'll let you get busy on your daydreaming. Ever faked an orgasm? If not, it's never too late to start. Some women hold back and want to please their men so much, they can't release enough to have their own orgasms. A secret—once you start faking, you may surprise yourself and in no time, begin having them for real! This is not only because you lose some inhibitions, but your men will feel they are making you feel good and will step up their lovemaking. It's a win-win.