Does our previous life reading hold answers to our current life? Lets explore this in greater depth.
Can a past life reading benefit you in this lifetime? Why would someone want to know about previous incarnations? Is it all simply for entertainment or something greater that encourages spiritual development by understanding where we have been? Do you have more questions on this and would like personalized advice, contact a psychic today!
Psychic Micah ext. 9260 was able to provide me with the details from three very clear previous incarnations, all of which identified the strength and versatility I developed and continue to develop today. As Micah explained, "When you understand your past lives, you then know what you can bring from your past into this life to assist you."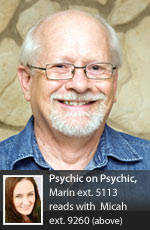 Micah's psychic reading felt as if I had taken a step back into history. He was very accurate with dates, cultures and world historical events, and saw my diverse past lives stretch across the globe. After receiving the images from spirit, he easily identified my role, and matched the century and geography to each life. It became apparent that when seeking a past life reading, a psychic historian such as Micah is best suited for these types of readings where one can gather the images, and appropriately identify their origin in time.
Beginning with my most distant life, Micah saw me as a man of the sea, in the early 1600s. An explorer, a proud English man whose soul was nourished by living life aboard a ship. This struck a chord within me. I recently purchased a sail boat, and have always harbored (pun intended) a desire to sail. I often imagine fearlessly living at sea. The old tales of pirates and sirens have fascinated me since childhood. The thought of this life brought emotions of happiness and a feeling that this psychic was definitely seeing into my soul and where it has been.
After navigating the open seas, my next life was grounded in France, 10 kilometers east of Paris to be exact, in a small unknown town. My life consisted of extreme domestic responsibilities; a husband, seven children, two of which passed at an early age, and even a small vineyard that I managed to find the time to maintain. In this life I was a woman, inside and out. I loved clothing and spent painstaking hours maintaining an image of beauty and grace. "Ever been to France?" Micah asked me. Unfortunately, no, I have not been, but it is one of my top travel destinations.
Also noteworthy is that included within my personal "to-do list" is learning to speak French. The language has always been so soothing, and the culture so comforting. In my current life, I even married a French man. After hearing all of this, it seemed so obvious that this past life connection has made quite an impact and continues to influence my current life in many ways.
After a lifetime filled with family and good company, I embarked upon a very lonely path. In my most recent past life, the life Micah was able to see just before the present life, I was born in the roaring 1920s. This comment brought forth memories of me dressing as a flapper girl for Halloween when I was ten years old. In this past life, Micah recognized me as a military officer within the navy, and that I most likely served during the Korean War. I passed in my 30s and lived a deeply unfulfilled life. I felt empty, and was still seeking children and comfort within a large family, which explained a desire to recapture life as a French woman surrounded by family. As a result of this deep emotional loneliness, I made certain my next life (my current life) would become filled with children and family, a lesson I learned from having experienced both lifestyles. In my current life, I have been able to bring forth this happiness that was distantly familiar, and was crucial for providing comfort for the evolution of my soul.
Seeing these past lives come together felt as if Micah had fashioned together my soul's quilt. Taking scraps and scattered pieces from all of these lives and stitching them together into a beautiful pattern, he revealed my soul.