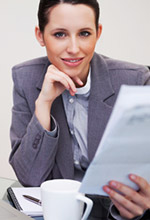 It's a Showdown
Venus is on her "backward" journey, and the Moon is in the rich "pregnant" part of the sky during this week. Expect your company or those who might finance your project to be considering investments carefully while the workers begin speaking up forcefully. We have just passed the phenomenal 2012 solar eclipse on Sunday (5/20), partially setting the tone for the next six months. What we are seeing on this eclipse is a "showdown" between the labor force and management. That project and that promotion will come about—just expect people to be careful with their money until things settle down.
Aries
This is an interesting time for your projects requiring financing, even if that financing is in the form of a promotion at your current job. The money is there and waiting, yet there is a reluctance to release funds in unsettling times. If this is happening to you, assert yourself, take that frustrated energy to showcase you abilities. Compensation will come in time.
Taurus
This continues to be a good month for both your self-expression and your finances at work. While things are likely chaotic at the job, most Taurus natives are under a nice protective aspect for their finances. Later in the week, the work environment should be more pleasant.
Gemini
Today, you will feel that you have your communication "mojo" back. People are hearing you again after an unusual, yet interesting weekend. Your usual charm was working quite well during this time, but people appeared particularly dense over the last few days. Just know that your crisp words are heard through a fog by some listeners. Still having problems being heard or getting your "mojo" back? Talk with Psychic Paige ext. 9158 to find out what's holding you back.
Cancer
Protect your fragile emotional peace at work as disruptive elements are active at the beginning of the week. All will be going well by midweek. Even if the "cannons are still loose" in the office, you will be praised, and you'll feel in your element then.
Leo
You'll have an exciting beginning of the week with many social activities, so your focus may not be on work. That's fine as long as you are comfortable with the undercurrents taking place in the workplace. Things are relatively peaceful there now so enjoy yourself. You will shine again at work next week.
Virgo
While your usual workmates or partners at home may be in a bit of a daze or confused about their own careers, your focus is good. The issue is that you aren't certain if you can count on others to come through with their part in projects. Stay steady and focus on your spiritual life or education and it will all work out.
Libra
This week begins with clear self-expression at work and a sense of security in this. Later in the week, people will be more emotional in the office, and you're vaguely uncomfortable with this. Don't worry. It will have passed by next week.
Scorpio
Your week begins with the work environment almost behaving like a surreal movie. While your investments are looking good, you're wondering when you can focus on your career again. By midweek you'll be more focused on education or travel plans rather than worrying about the career schedule.
Sagittarius
You begin the workweek wondering, "Are we having fun yet?" This isn't based on boredom, but being busy to the point that even you're wondering if you want to deal with all of it. You'll still be busy by the end of the week, but you'll have a philosophical point of view that makes it all enjoyable.
Capricorn
You're probably getting tired of being the "bad guy" reminding others at work that they have responsibilities, too. Your philosophy of "work now, play later," will pay off for you though, and you rather like the effectiveness of what you do no matter what the slackers think. Do you still feel like the "bad guy" and are you ready to shine again? Talk with Psychic Julia ext. 9131 to see what's ahead for you.
Aquarius
Home and your creative spirit keep demanding your attention away from career objectives. The good news is that your creative works are bound to pay off soon. You may inspire the boss to offer you a trip or a new paid educational program.
Pisces
Your focus is more on home than your career at this point, and things are probably pretty active there. Midweek has your creative juices flowing and something beautiful will evolve. Just keep communications clear at work and all will be fine.