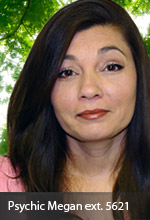 Tune In to a Non-Judgmental, Illuminating Reading
We sat down to have a conversation with Megan ext. 5621 and discovered that through her readings, everything happens for a reason. Some notable successes with clients are:
"There's been a lot of breakthroughs and a lot of calls about timing. There was one female who hadn't heard from a guy in 10 years. Her guides gave the time frame when she would hear from him: two to six days. She didn't believe it at all. She said, 'I've been hearing that for such a long time. It's been years.' A few days later I got a phone call, and she told me she'd heard from him. They've rekindled their relationship and are now back together.
"I had one woman who dated a gentleman from high school to her early 20s. She wound up getting married to someone else. This man cheated on her a few times and broke her heart. Her family didn't like him, but she felt she had a soulmate connection, and the spirits confirmed that. She then got remarried, and had three children. All this time, she hadn't heard anything from that first man she dated in high school. She said she had no intentions of contacting him; she didn't know what to say, since her life was already set. The spirits told her that there would be contact coming from his end. The timeframe was between one and two months. There was contact. He was separated from his spouse, and did mention to her that throughout the years he'd felt her energy. Over the course of reading for her, I would tell her 'You guys have a spiritual connection; you can send him love and energy.' She started to see him while she was still married, and eventually they both ended up getting divorced and marrying each other. She thought it was a first love—puppy love—and didn't think they were going to get back together."
How does Psychic Megan do it though?
Megan will introduce herself and launch into reading you! She's fast, very fast. If you have questions, feel free to share them, but she does not need you to ask anything to start. Through her clairaudience, she hears messages from her spirit guides and relates them to you. She will hone in on what has happened in your recent life and then forecast important timelines. A great listener, Megan is very in tune with her spirit guides as she empathically connects to you and yours. A straightforward reader, Megan feels that sugar-coating messages will not best serve your needs. She shares what she sees occurring in your life so that she may bring about positive change. Megan's hope is that "an honest reading from a true psychic can bring hope." She has been reading for over 20 years and particularly enjoys answering questions about your love life.
How did she become a psychic?
"I was born with a gift. When I was between eight and 10 years old, I started to hear my spirit guides speak to me. I didn't fully understand it until I was about 15. That's when I realized I had a special gift. I started to read about spirit guides and the psychic world. Even though my family didn't understand it, I still felt like I had a gift, so I read about it and learned how to get deeper in touch with them. I started to give readings to friends and family members and a lot of the messages I was receiving were coming to pass. There wasn't much I could do with it at that age, so I couldn't understand it at that age. I was just gaining knowledge and getting confirmation. I started working professionally between the ages of 19 and 20."
If she could help people in the world to realize one thing, what would it be?
"To have a better outlook. Usually when somebody's going through a tough time, and things feel negative, it's not the end of the world—there's something bigger and better waiting for them. If they didn't get a job, their boyfriend dumped them, or when something doesn't happen in their favor—I really, truly feel like it's for a reason. There's something better out there for you."
What can Megan ext. 5621 see for you?