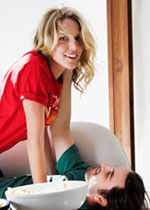 Signs to recognize when a woman wants to have sex might include late night invitations, playful touch or even her modeling different clothing for you.
Understanding Her Sexual Cues
While it may seem to women that they are being quite direct regarding their sexual interest in a man, sometimes a guy would prefer clearer messages. Whether or not a women wants to play coy (or perhaps is just shy!) regarding her sexual invitations, there are some recognizable signs of sexual interest that will help take the guessing out of the interpretation game!
Any Handsy-Ness With the Nether Regions
If she's going straight for the kill, or close enough with, say, a hand on your upper, inner thigh, odds are it's a direct invitation to fully explore said region with her.
The 2 AM Invitation Back to Her Place
If the hour is indeed late and she still invites you inside for "a drink," she's probably looking for more than just a drinking companion. Whenever a lady invites you into her personal space at a time when she would otherwise be in bed, you've got a great shot at sharing her bed along with that whiskey on the rocks.
"Embark on an active journey to see what romantic potentials may await." – Althea ext. 9582
Your Own Private "Fashion" Show
If she's inviting you to a private viewing of her swimwear, underwear, or sexy nightwear, odds are she's letting you know she wants you to see her in them and then get her out of them (especially if she's changing in front of you!).
Play Wrestling
When a woman wants to get physical with a man, playful physicality can be a subtle invitation. She clearly wants to roll around on the floor with you, body parts colliding, etc. and there is a definite playfulness involved which also translates appealingly into the bedroom.
"Sex can be very emotional, but remember to look at sex in a practical view too so that it won't dictate how you think you feel emotionally. If you can enjoy a person with or without sex, then that's a special connection." – Leo ext. 5265
Her Favorite Topic of Conversation is Sex
Unless she's a nymphomaniac, if she chooses to engage in sex talk with you, you know she's definitely got sex on her mind, and she wants to share it with you. Lascivious expressions can serve quite effectively as foreplay for her, so listen up for provocative phrases spoken with a gleam in her eye—this sexual serenade is just for you!