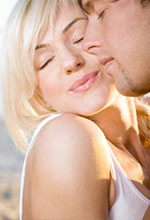 The Next Twelve Months in Love
Ruled by the Sun, it's no wonder Leo is such a magnet for affection and attention. But when it comes to love, even superstars struggle. While you may've been experiencing confusion and/or dissatisfaction in your relationships (or lack thereof) during the first half of 2012, if you've been doing the work needed to affect a change, you will start to see a shift. In other words, when it comes to your love life, dear lion, things are looking up.
Here's your Soulmate Forecast for July 23, 2012 through July 22, 2013.
Almost as soon as the Sun enters your sign this month, you'll feel things start to heat up. That's thanks to Mercury (which is in Leo at this time) sextiling sexy Mars. That heat, however, is not the basis of lasting relationships, and you should wait to move forward on any meaningful level at least until Mercury comes out of Retrograde on July 31. Whatever it is that you're building (or assessing) at this time will likely become clearer to you come September, when Venus enters your sign. It's then that things really take off. Are things a bit too hot to handle right now in love? Talk with Psychic Chanel ext. 5432 who can see how to cool things down.
If it's marriage you're looking for, auspices improve this fall, when Venus sextiles Jupiter on September 20, offering just the opportunity you need to light a little fire. Whether it's popping the question, renewing your commitment or simply doing something especially romantic in the case of a more fledgling pairing, it's a day that can mark a new beginning should you so choose.
From there, it's smooth sailing through November, which should be an especially satisfying month in the relationship department. If your significant other has seemed preoccupied, that should come to an end now… unfortunately, just in time for the holidays—which are stressful for all. Look forward to January's natural, new beginnings to restore balance and bliss in your relationship when Mercury and Venus cycle through your opposite sign of Aquarius. Whether you're coupled up already or single, this brings plenty of opportunity for unexpected and positive developments, provided you are honest and forthcoming—even about difficult subjects.
In fact, whether the relationship is old or new, the focus in 2013 is all about communication and commitment.
In late February/early March, Venus and Mercury are both in Pisces—and Mercury turns Retrograde, making for a confusing spell, wherein your desires may be difficult to decipher, much less talk about. Look out for meddling friends or family members trying to stir up trouble in your relationship. If you're committed (and so is your partner), that's what counts. Save the serious chatter for when Mercury turns direct in March. Do you feel like you or your partner are running from commitment? Talking with Psychic Nicholas ext. 5499 can give you that unbiased opinion you're looking for.
Whereas love complicated work in 2012, it offers a release from professional tensions in 2013, so be sure to fan the flames—and show your partner how much you value them—if you want to benefit from the astral auspices.
By the time the Sun returns to your sign in July, you should be feeling a lot more harmony than you are right now, Leo—whether that's within your relationship or simply within yourself depends on you!