Find Your Soulmate
The March Crescent Moon first appears just after sunset on March 12. This was the Moon phase that the ancient astrologers studied to foresee major events unfolding in the future. It is the birth of the primary light in the sky at night after its two-to- three-day disappearance.
March 11 through the 20th is a perfect time to recognize the wonder of what you have been creating. This Moon appears very near Venus who is finally approaching her lover, Mars, after a long separation. They are in the area of the sky symbolizing soulmates—"the sacred knot." Uranus is also with this crescent-phase Moon, offering creative brilliance. Looking for your soulmate? Find out who they are with a love reading from Psychic Kit ext. 5180.
Aries
This Crescent Moon is particularly potent for Aries as it is in your Sun sign. While you are interacting with many, your best energies will be invested working behind the scenes in privacy. It's a great time to present a creative effort to a trusted person or for meeting a lover for a very private rendezvous. Yes, this may be your soulmate!
Taurus
A very private and sexy rendezvous allows you to show your powerful creativity. If you are promoting your business, art or other creative effort, make potential clients feel like insiders meeting a sexy new offering as that's what this week is all about. Taurus is a master of sexy encounters, so whether you are enticing a lover or business associate, know that you have the potential to dazzle them.
Gemini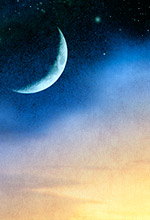 During the March Crescent Moon, a treasured friend may become a lover for life, or you may make networking connections that can propel you and your dreams to new heights. You will have brilliant ideas that can be shared with others through your wonderful communications talents, bringing a major breakthrough.
"Be flexible and open to new ideas along the way." – Psychic Blythe ext. 5339
Cancer
Phases of the Moon are particularly important to you each month as it is your Sun sign ruler. This is a very personal "birth of the new" for you and you are sensing this so strongly. If you are interested in a new lover or new beginning in your life, enjoy this week and know that in a few more days you see some delightful results.
Leo
Your new beginning with the March Crescent Moon is in both the areas of secret liaisons of the sexiest kind while also being a teacher/spiritual leader to others. A combination of the two would show a new lover amazing joys. This Crescent Moon gives birth to something that you will find very inspiring.
Virgo
Your lover or another important partner will be the absolute focus on your Crescent Moon week. You will feel particularly loving, and you will bless them with what you generously offer this Crescent Moon week. If it is your lover who is your focus today, they should watch out! You will show them just how passionate a Virgo can be.
Libra
Your Sun sign is opposite the Crescent Moon for March. Your focus on your partner will be intense at this time, and you see where the relationship can go. This is a sexy and exciting time, whether you are focused on a partner who can carry you to success or an amazing lover. Don't worry if they seem a bit erratic as they are truly enchanted by you.
Scorpio
You are the master of power behind the scenes, so this is a Crescent Moon that has all the energy that you love. You know that if it's a new client or a potential lover, you already have them in your sights, and they are yours. You aren't kidding yourself (you seldom do) and this is the beginning of something great if you use your masterful energy.
Sagittarius
You are feeling amazing new inspiration from this fabulous Crescent Moon. In fact, your ideas are absolutely brilliant, so jot as much down as you can if they are flashing in front of you. This could be taking place in your career, or you may be finding yourself totally enchanted by someone in the workplace. Go with it. You have everything to gain.
Capricorn
This Crescent Moon symbolizes that something that just left your life allows you to be totally open to a bright new future. Use communications to the fullest, whether it is with a brand new love interest after the ending of a relationship or a new approach to your dream ambitions for the greatest benefit. This is the time to present your plans.
Aquarius
You've made some good investments lately in both your personal and public life. This Crescent Moon period is when you begin to see the benefits financially and through the generosity of those closest to you. Look for new communications or a brother or sister to bring you a new opportunity for love and satisfaction.
Pisces
This is the time to dazzle others with your mysterious charms. This doesn't require any effort on your part. Just be yourself, and others will find you offering a whole new enchanting experience. You could also find financial benefits through your home or a parent.