Find Your Pot of Gold
Put on your party hats and click your heels—it's St. Patrick's Day. If you happen to see a rainbow, by the way, today would be the day to follow it. Irish lore tells us that there's a pot of gold at the end of that rainbow, and this year's treasure is in the form of the end of this year's first Mercury retrograde. By the time St. Patrick's Day is in full swing, the Moon should be settled in social Gemini. It's the perfect time to be with groups of friends, family and strangers as well—go to a party. After all, it's a well-known fact that everyone's Irish on St. Patrick's Day—and if that's not enough, spring is just days away. Get a full, detailed horoscope with a reading from astrologer Psychic Elliot ext. 5862.
Aries
You are, as usual, the go-to girl/guy when it comes to getting the gang together for an impromptu celebration at a someplace local, and today it may be up to you to do it again.

Taurus
Make an effort to be social. Go graze in the shamrock field on this St. Patrick's Day. You've had lots of work to keep you busy, so cut the bull and get out for a bit, just hold on to the green in your wallet.
Gemini
If you get stuck at work while everyone's getting together, you won't be a happy camper. So surprise yourself and get your stuff done early. You might even want to plan a vacation day.
Cancer
Communications have been misplaced, and your intuition is a bit on the wonky side, but you can literally feel the fog clear and the shamrocks become visible again. If your friends are getting together, don't hide in your shell or you'll miss a good time.
Leo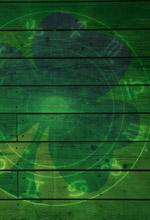 Don't brood about recent financial concerns or even miscommunications you may have had. It all seems to turn around today when you get a change of scenery. Grab Tarzan, and get out of the jungle for a bit.
Virgo
Any miscommunications or feeling like you're not being heard should be put aside or settled soon enough. Mercury, your ruler, suggests that you go with the flow and get your St. Patrick's Day celebration on.
"It is much easier to forgive others if we follow the rule of "taking nothing personally." But I also find it really helps to understand the details. Astrology can sometimes bring even hidden details to the surface." – Psychic Joyce ext. 9598
Libra
Finding the balance in relationships has felt like work and work has become as demanding as a relationship—still, you know how to balance fun and responsibility (sometimes). Make today all about fun.
Scorpio
Listen to your intuition if it tells you to take a break. With Mercury in forward motion again, it would be a good time to plan a trip. Go out on St. Patrick's Day and discuss the plans—maybe a trip to Ireland.
Sagittarius
Creativity and a better romantic outlook are yours. You love getting out with friends, and St. Patrick's Day is the perfect time to show off your charisma and share the lighter side of life—all is good.
Capricorn
You enjoy work and play with equal abandon, and all the planets in Pisces now have your intuition popping. Getting out with friends on St. Patrick's Day is a way to network and have fun, too.
Aquarius
Budgeting may have been an itchy subject for you lately, but today is the day to go out after work, get away from worries and issues for a day. You can eat cabbage without having to spend too much of yours.
"Worry will not prevent tomorrow's troubles. It will prevent today's happiness." – Psychic Kelli ext. 5130
Pisces
Even if you're not Irish, you are a Pisces, and you have the support of all the planets in your sign, especially Venus, who will make your St. Patrick's Day forecast fun. You shine in social situations.