What Do Your Numbers Mean?
It's useful to know both your Birth Number and Destiny Number to select your lucky numbers at any given time, but the Soul Number, also known as the Heart's Desire Number is the most effective number whether you are playing the lottery or looking for love. You can look for your Heart's Desire Number in home addresses, a business where you are applying for a job or when buying a new home. Finally you can compute the Birth, Destiny or Heart's Desire Number of a potential mate and have a sense of where you stand in the relationship. Are you fated to be partners? Any of these numbers work to determine such a connection with the Heart's Desire being the most harmonious and pleasurable.
The first half of May will be particularly lucky with tons of surprises, new love and even financial windfalls, and this is particularly a good time for certain lucky people who have a 1, 2, 3 or 5 Heart's Desire Number.
The last half of May and first three weeks of June are great for 2, 3, 7, and 9 Heart's Desire Numbers, especially those with strong 11/2 energy. From the beginning of June, but especially after the 21st, those with a strong 3 (especially 12/3) 4, 6, 7 and 8 will watch the summer open up and fill with rewards and satisfaction after a very long period of hard work and challenges. Destiny and Birth Numbers can also work for these lucky days.
Do the Math
Your Birth Number consists of adding together the numbers of the date of your birth. You then add those numbers together until you reach a number of 1 – 9. Example: 2-14-1988 is 2+1+4+1+9+8+8 = 33 (3 + 3) = 6. This person's Birth Number is 6.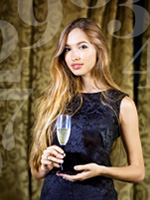 Get a numerology reading from Psychic Nicolina ext. 5671!
The Destiny and Heart's Desire Number use the full birth name as it appears on your birth certificate, applying a numeric assignment to each letter and adding the same way as the Birth Number above. The Destiny Number uses each letter of the full name. The Heart's Desire uses only the vowels of the full name.
Letters to number are this simple:
1 A J S
2 B K T
3 C L U
4 D M V
5 E N W
6 F O X
7 G P Y
8 H Q Z
9 I R
So for your Heart's Desire, add together every A, E, I, O or U, plus any Y used to replace the I sound, such as in  "KathY" or "TwYla." Now that you've found your Heart's Desire Number, you can apply it to everything you do to find great times to pursue your dreams.
Here are the dates in May and June that align with your Heart's Desire Number:
Heart's Desire Number 1
Aries, Capricorns: Lucky days/areas:
Wednesday, May 8: Networking
Friday, May 17: Enthusiasm and natural flow
Sunday, May 26: Health, sports, weight loss
Friday, June 7: Communication and partnership
Sunday, June 16: Taking action on destiny
Tuesday, June 25: Home, family, real estate
Heart's Desire Number 2
Taurus, Aquarius: Lucky days/areas:
Thursday, May 9: Appealing to others' emotions
Saturday, May 18: Cooperative communications
Monday, May 27: Innovative ideas, finance
Saturday, June 8: Heartfelt communication, finance
Monday, June 17: Use action for luck
Wednesday, June 26: Partnering brings luck
Find out what else is in store for you in May and June. Talk to Psychic Kim ext. 5512 today! 
Heart's Desire Number 3
Gemini, Pisces: Lucky days/areas:
Wednesday, May 1: Flashes of intuition
Sunday, May 19: Communications, teaching, pure luck
Tuesday, May 28: Writing, creative communication
Sunday, June 9: Communication in love
Tuesday, June 18: Inspiration, beauty, creativity
Thursday, June 27: Creativity, money
Heart's Desire Number 4
Cancer, Taurus: Lucky days/areas:
Saturday, May 11: Benefits from completing old projects
Monday, May 20: Relationships
Wednesday, May 29: Evening luck
Saturday, June 1: Intuition
Monday, June 10: Real estate, home
Wednesday, June 19: Success building
Friday, June 28: Financial flow, personal honor
Heart's Desire Number 5
Leo: Lucky days/areas:
Sunday, May 12: Generous friends, social activities
Tuesday, May 21 and Thursday, May 30: Communications
Sunday, June 2: Flashes of insight
Tuesday, June 11: Transformation
Thursday, June 20: Great self-expression, overall luck
Saturday, June 29: Creativity, performances
Heart's Desire Number 6
Virgos: Lucky days/areas:
Saturday, May 4: Medical issues, partnerships
Monday, May 13: Flow of generosity from friends
Wednesday, May 22: Work efforts
Friday, May 31: Intuitive flow
Wednesday, June 12: Action on insights
Friday, June 21: Career communications
Heart's Desire Number 7
Libras: Lucky days/areas:
Tuesday, May 14: Travel, creative efforts
Thursday, May 23: Gut feelings
Tuesday, June 4: Taking action
Thursday, June 13: Brilliant communications
Saturday, June 22: Committed partnerships
Heart's Desire Number 8
Scorpios: Lucky days/areas:
Monday, May 6: Action from the "gut feeling"
Wednesday, May 15: Empathy with action
Friday, May 24: Compassionate action
Wednesday, June 5: Acting on past efforts
Friday, June 14: Concentrated effort
Sunday, June 23: Transformative action
Heart's Desire Number 9
Sagittarius: Lucky days/areas:
Thursday, May 16: Teaching, travel
Saturday, May 25: Overall good luck
Thursday, June 6: Meditation for success
Saturday, June 15: Guiding others
Monday, June 24: Self-healing
Numerology can tell you so much about yourself. Get your numbers done during a call with Lucrecia ext. 9326.