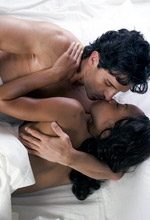 Getting to the Finish Line
When trying to understand what sex feels like to a guy, you have to realize that there are different types of sexual experiences along the way. Sex to some men is like a marathon race which ends with a terrible spill, as he digs his foot into the starting gate (premature ejaculation). It can be like an upward climb in a hardware store to a sale on hunting hats, yet just as he gets to the top, he finds there isn't any left, so he buys a fishing pole instead (fake orgasm). It can be like rubbing two sticks together to create fire. However, one of them breaks, so he kicks the broken pieces to the side, hoping nobody notices (impotence). It can be like adding super unleaded fuel to the tank of a Ford Gremlin instead of the "regular" stuff, causing it to overheat and explode on the highway (Too much Viagra, followed by an emergency visit to the hospital.).
Anatomy Class
In short, sex may be a slightly different experience for every man. However, while it may be an individual experience, there are certain similarities that are worth mentioning. In fact, if you remember from your anatomy class, men and women start life with not-all-that-different equipment. We both had a lump on our shoulders, a pair of lungs, a couple of stubs that would one day serve as arms and legs, and a cluster of embryonic cells dedicated to our sex organs. It takes several months before these cells get their act together and set on their path to either creating a love tunnel or funnel (so to speak).
What happen over the next couple weeks is not only amazing, but can be quite beneficial for a woman to understand exactly how sex feels to a man. A woman's clitoris is basically a mini-me version of the head of the penis. His organ may not have quite the sensory capability, being 10-times bigger. However, the pleasure and fun factor of this organ is still fundamentally the same. If we travel down along the inner lips of the female anatomy, which also includes the illusory G-spot, you're basically dealing with the male portion of the body, known as the shaft. Next we move to the outer lips of the female, and this is what develops into a man's scrotum (saggy home to the testicles).
Before I lose you to boredom, allow me to get to the interesting part. This suggests one important fact, and that is the act of sex is more stimulating for men than women (duh). His sexual organ is spread out over a greater area, and receives much more stimulation from the standard jackhammer sex response. This is probably a fundamental causation of why intercourse only extends itself for three to ten minutes for the average male. However, this is where the man's advantage diminishes.
Psychology of the Orgasm
Because a man's psychological pleasure receptors are also tied to his physiological ejaculatory response, his orgasms are generally shorter (last a couple seconds), more intense, and can only occur once in a given sex session. None-the-less, the warm feeling that begins with a woman's clitoris and spreads throughout her body is a similar experience described by men. Men also experience the tingly, pulsating, electric contractions.
Because of the physiological delivery of semen, researchers speculate that the sensation of orgasm is perhaps slightly more symbolic for men, because it also offers the tangible experience of fluids leaving his body. A lot of men describe the experience as if he is giving a spiritual portion of himself to his lover. This explains why guys feel an intense closeness to their partner directly after an orgasm, which is multiplied several times over, considering the big O also puts him in a state of oxytocin overload (a.k.a. "the feeling of being in love").
So now to answer the question, "What does sex feel like to a guy?"
Imagine a Q-tip being gently swirled deep inside your ear. Suddenly, you have the uncontrollable urge to sneeze, and you do. The resulting explosion expels your brain from your nose, along with fragments of light and energy. You forget your name, imagine yourself riding on a unicorn in a fairytale kingdom, and get an unpopular 80s tune stuck in your head. As the sensory overload subsides, your conscious awareness recollects itself, and you begin to feel a deep and euphoric connection to that Q-tip. You ponder the sacred nature of love, and become very sleepy. You curl up in a fetal position. Goldy Locks steals your covers and three-fourths of the bed, and you drift into a long and slumbering nap.
Psychic Teagan ext. 5318 knows what's lacking in your most intimate relationship and she has the tools to help you remove what blocks you from a more fulfilling sex life.