Your 2014  Money Highlights and Lowlights
Finances are no trip to the hairdresser—although one of those visits could easily set you back a bit, and while there are twelve months to every year the best way to view your money horoscope for 2014 is within the tiny strands of highlights and lowlights that happen at certain times during the year—namely, Venus transits, Mercury transits and New Moons mostly and especially in your money house.
However, it's always wise to have your personal chart done to find the best financial days not just for your Sun Sign, but for you individually because you and your chart are unique.
Get your detailed money horoscope from Psychic Charrmayne ext. 5058 and see what's in store for you in 2014.
Your career could have much to do with your money as well, but for now let's just focus on finances and what the stars say about your Sun Sign (and Rising Sign) Money Horoscope for 2014:
Aries
From the January 1 New Moon in your career house as well as Venus who is also there until March 5, money can come through hard work. April 29 New Moon/Solar Eclipse could bring money your way and it could be a life-changing event. May 28 through June 23, Venus occupies your money house, and she always brings a gift. Mercury retrogrades in your house of shared finance between October 4 and 25 and it may seem to rock your boat, but the October 23 Solar Eclipse in the same house could turn things in your favor, just in time.
Taurus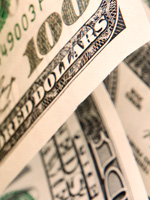 Aside from the New Moon/Solar Eclipse in your sign on April 28 which is a nice overall boost to your year ahead, the rest of the year focuses on Gemini, your second house of money. You have a New Moon in Gemini on May 28; more good luck. Venus graces your money house from June 23 through July 18 and on July 16, lucky, expansive and financially savvy Jupiter enters the same house to stay for 13 months; both expenses and income will see an increase. Watch the last week of June when the Mercury retrograde slips into your money house—lay low on finances that week.
Gemini
Expansive Jupiter continues to occupy your money house through July 16 benefiting your money horoscope for 2014 even more strongly than in 2013. Two New Moons send you good financial vibes, May 28 and again on June 27. There's a Mercury retrograde in your house of money turning into your Sun Sign between June 7 and July 1, clearly a time to be wary of making hasty financial decision. Mercury works in your favor from July 1 through July 30 as does Venus on July 18 through August 10 in money house. Slow and steady in 2014 Gemini.
Cancer
Jupiter continues to be in your financial court all year, moving through your first and into your second house of money on July 16, remaining through 2014 and beyond. That makes this whole year your money year, and this summer is your time for a burst of money blessings. Mark the New Moons on June 26 and July 26 as five-star days. Also, Venus moves into your money house on August 11, leaving on September 9. Focus on creation and innovation and money will come.
Leo
Financially savvy and ultra-expansive Jupiter will enter your sign on July 16, and things start looking better than they have in a while. Meanwhile, on April 29 a solar eclipse could help you find money through work or a raise in income. Thank the New Moons of August 25 and September 23 who send good money wishes your way. And don't forget the period of September 5 through the 29th, when Venus visits your money house. Your Money Horoscope for 2014 should give you a reason to smile.
Virgo
Your down-to-earth emotions will tie heavily to money during the two lunar eclipses on April 15 and October 8. Luckily, you know how to stay level-headed. With that out of the way, the New Moons of August 25 and September 24 both bring opportunities to increase finances. From September 29 through October 23, you'll again have the chance to increase income, but you'll also have an urge to splurge—if you must spend, use paper not plastic.
Libra
October is your time of year, and it starts with Mercury's retrograde in your money house on October 4 which will end in your Sun Sign on October 25. No worries though, Mercury the messenger has more to say for your finances from November 8 through the 26. There's a financially lucky New Moon/Solar Eclipse in Scorpio, your money house, on October 23, the same day that Venus and the Sun move into your money house, staying until November 16. You're in good shape.
Scorpio
On October 23, bells will be ringing for you as the Sun and Venus come into your Sun Sign as well as a New Moon Solar Eclipse—Wow. Put a big smiley face on your calendar on that date. Eclipses are life-changing, and this is the best possible astrological day of your year. November 16 through December 10 is an excellent time for you and your bank account thanks to Venus in Sagittarius, especially when the November 22 New Moon also lands in your money house and makes a wide conjunction with Venus for double good luck.
Find out how the eclipse will be life-changing for you! Talk with Psychic Dave ext. 8018 and get the details.
Sagittarius
On January 1, there is a New Moon in Capricorn, your money house; a good way to celebrate the New Money Year. Joint finances continue to work in your favor and even more so from January 1 through July 16. Venus, having been retrograde, goes direct in your money house from January 31 through March 5 and again on December 10 through January 3 in 2015, making this year start and end on a good financial note. Happy New Year.
Capricorn
You get the financial blessings of two New Moons in January—the first on the 1st in your Sun Sign and the second in your second house of money on January 30—the opportunities abound for financial improvement. Also, on March 5 through April 5 Venus will be in Aquarius, your money house, followed by her visit to your joint finances house between August 11 and September 5. I know you like hearing this, Capricorn.
Aquarius
Mercury will retrograde in Pisces, your money house from February 6 through 12 (when it will continue its retrograde in your Sun Sign through the 28). Don't sign any new financially-related contracts until just after the inspiring March 1 New Moon in your money house. Venus will grace your money house from April 5 through May 2, and she'll help your joint finances area from September 5 through 29.
Need more details about your Money Horoscope for 2014? Get a in-depth astrology reading from Psychic Winter ext. 9002.
Pisces
Mercury will retrograde in your Sun Sign from February 6 through 12—but that's okay—just be ready for a financial opportunity to take you by surprise on March 30 when the New Moon conjuncts the Sun and Uranus in your money house. Venus will bring her money blessings to you between May 2 and 28th and again in matters of loans and other joint finances from September 29 through October 23.