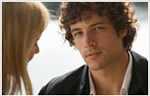 When dating an Aries be prepared for a partner who's full of fight, passion and can be rather self-centered yet loyal to the right partner. Fiery Aries is a whole lot to handle, but that doesn't stop them from being one of the most highly sought after and desired signs in the zodiac. And it's no wonder why! With their natural self-confidence and passionate flair, The Ram has oodles of "it" factor. But are they right for you is the question.
Use this guide to dating this red-hot Fire Sign to find out. Hint: if you can't stand the heat… steer clear of Aries!
All about Aries
While incredibly passionate and invested in their commitments, Aries has the tendency to make things all about themselves. Unchecked, Aries will – ahem – ram their thoughts/feelings/desires down your throat, ad nauseum, without pausing for a second to recognize their self-obsession. Same goes for wanting what they want, when they want it, which, beyond being demanding can be inconsiderate (oftentimes they'll want space to do their own thing despite other plans and lack of warning).
On the other hand, the Ram is also fiercely loyal to the right partner. If you're self-assured and comfortable giving an Aries the room to fulfill their own needs (clingy partners need not apply), you may find this sign's combination of intensity and independence strikes just the right note.
Let the fireworks fly
It has been said that a relationship without discord lacks passion, and that is the Aries romantic motto. These fierce fighters actually enjoy a tete a tete here and there (so what if some people would call it a screaming match?). They actually see a healthy debate as a sign of a thriving partnership. It's not so much that Aries likes to disagree, it's that they feel deeply, intensely, and must absolutely express themselves. The point? If you're not comfortable with the occasional argument, do not pass go with this Fire Sign.
Conversely, those who understand that fighting with an Aries is not a sign they don't want you, but rather a guarantee that sparks will fly, can benefit greatly from weathering the storms of this tempestuous firestorm. Not only will spirited debate lead to steamy make up sex, it'll keep Aries interested. When the sizzle fizzles and the spark has subsided, that's when you'll have something to worry about!
Prepare to play
Finally, if you're looking for an easy-going partner who enjoys anything close to the status quo, dating an Aries is probably a bad move. These born adventurers like to keep their partners (and themselves) guessing. They see life as a game where excitement is the objective and everyone they encounter – particularly potential paramours – provides competition. For that reason, Aries requires a lover (slash) adversary who keeps them on their toes!
Sound grueling? It can be. The good news is that as competitive as Aries is, they're not the type who has to win at all costs. Rather, they prefer a worthy opponent to one they can roll over easily. The same rules apply whether the contest is physical, sexual or intellectual. In fact, surprisingly enough, an intellectual connection is a real turn on for this physically aggressive sign. It's the first signal to them that a worthy adversary may be afoot.
The long and short of it? If endless exploits sound appealing rather than tiring, this fire sign may be your match. Even if you get burned, the wild ride will most likely be worth it.