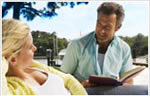 Capturing the heart of a Gemini is best accomplished through their brain! Geminis love verbal self-expression, talking both in and out of the bedroom. They may be a talented actor like Johnny Depp, Angelina Jolie, and Marilyn Monroe. Or they may have the heart of a poet like Bob Dylan and Paul McCartney. For Gemini, it's all about verbal self-expression — both in and out of the bedroom. So if you want to capture the heart of a Twin, here are some things you need to know.
Verbal Magic
The way to a Gemini's heart is through their brain. As an Air sign ruled by Mercury, the planet of communications and intellect, Gemini craves a cerebral connection with a partner. Whether they're discussing a scientific breakthrough, gossiping about a mutual friend, debating a political issue or talking up a sexy novel, they need a lover who appreciates their intellectual gifts. Engaging your Gemini in different subjects will keep them entertained and interested. Which is important, because they have little tolerance for boredom. Gemini thrives on variety, after all.
Fickle in Love
As a restless spirit, Gemini can be fickle. Because they're intellectually oriented, their feelings can seem shallow unless you engage their deeper emotions. For Gemini, wordplay is foreplay, and not to be taken seriously — at least at first. If you're in love with a Gemini, it pays to keep things light until you know for sure you've captured their heart. This may take some patience — and the ability to get beyond their brain. If your Gemini has some Earth influences (Taurus, Virgo, Capricorn), sensual pleasure will open a door to their deeper feelings. If they have some Water influences (Cancer, Scorpio, Pisces), sharing your feelings will inspire them to open their heart. Get more personalized advice, contact a psychic today!
Social Butterfly
Gemini is super social and enjoys a wide variety of friends. They can have platonic friends of the opposite sex, which is important to remember if you're the jealous type. Trying to control a Gemini is like trying to hold onto air — they'll slip out of your grasp for good unless you give them the space to enjoy their varied friends, interests and activities.
Cerebral Sex
Sexually, Gemini likes to have fun. Their versatility carries over into the bedroom, and they're usually game to try new techniques, positions and locations. Sharing some laughter in bed is a must, too. Verbal naughtiness, either from your own imagination or from reading erotic literature aloud, will heat up your Gemini, too. Getting stuck in a sexual rut, however, will have them running for the door. Being spontaneous and changing things up occasionally will keep them captivated.
Split Personality
The symbol for Gemini is the Twins. As such, there can be two distinct sides to Gemini's personality. The two halves aren't split between good and bad, necessarily; they're just different from each other. Still, this can be unsettling if you expect consistency in your partner. Just keep in mind that Gemini is adaptable and changeable, which will keep you on your toes.
With their wit, intelligence and social skills, it's no surprise that Gemini is the master of flirting. They'll charm you into delivering your heart right into their hands. Which is where you wanted to be all along, isn't it?