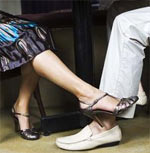 I was working with a lovely client recently who was having a love conundrum… sort of.  She and her friend  have had an ongoing friendship for a very long time. At this point, it has been nothing other than a nice friendship as they both live on opposite sides of the country. The friendship, however, is a very good one. One of her questions was "when will we finally be together as a couple?" The good news was my guides were showing me that there is a strong chance for romance between the two of them.
Now the problem as my guides were showing me, is that the romance between the two was still a few years off and that they would both be having other relationships in between. That did not sit well with her and this of course is where the assumption comes in. On her end, she's thinking that their friendship is leading to a love match. On his end, he's got lots of respect for her, likes her very much and enjoys the friendship they have going… But, he's not particularly relationship minded about things. At least not at this time.
It is an important thing to note here. Unless a man states he is very relationship minded about you, odds are, he probably isn't. Let's not forget that neither is he a mind reader.  He's thinking, nice comfortable friendship and you're thinking nice love relationship, leaving you both on two different pages. Love and the sexes is very complicated, being on two different planets and all.
She asked me why there would be other relationships for the two of them and I explained that my guides were showing me that there was no exclusive commitment between them.  She then confirmed what I had been shown. But she had a hard time accepting that he's a free agent and therefore free to date as he chooses, whether she was dating or not. "Well wouldn't he be angry if he found out I was sleeping with somebody?!" she asked.  While I am standing inside his head I ask his guides that question and was told "her personal life is absolutely none of his business, and vice versa." She is also a free agent and can date whom she chooses.
Unless the bond you feel with a particular individual is at the very least two sided, it's really simple. A friendship does not a love relationship make and to assume so, well…we all know what assumptions make.