In the movie The Sixth Sense the troubled young man says, "I see dead people," and for him it was a dark secret. I grew up in a home where psychic ability was not only accepted, it was encouraged. In the late eighties I met some people in Berkeley that wanted to form a "Ghost Hunting" group.I studied with them, and we learned new techniques.Up to this time it was always the spirits that found me, now I was eager to go 'hunting' to find them.My first experiences were a wild and fearful education for a very "cocky" investigator.
Eventually I found that I like to explore older buildings and historical sites. I have my favorite sites – some are so rich that I take student psychics and ghost hunters there to explore their own abilities (as I think everyone should).Being a part of a more organized psychic group or Paranormal Investigation has allowed me special access into places where the general public isn't allowed.
I once stayed overnight at Alcatraz, and have gone back numerous times since then.The Hospital space (above the cafeteria) is not open to the public and is where Stroud ("the birdman of Alcatraz") was kept for many years.A hauntingly disturbed individual who did not keep birds there!He is still there, in his old room in the hospital, to this day!
We have recorded EVP (Electronic Voice Phenomenon) or spectral voices in "Operating Room A" that were echoes of a surgery to save a man who had attempted escape and had multiple gunshot wounds.And had some very disturbing feelings in the solitary cells in D Block, which is near the Library, with a ghostly sweet, small, old man librarian who is still taking care of the 'books' which are no longer physically there.There is a guard that was killed in the riot that happened, that still walks the 'catwalk' over the 'D Block.'As well as the spirits of the men who attempted to hide during the riot inside the wall between cell blocks, where they died, can be felt when looking though a viewing window of area.My advice about Alcatraz is to go and get the taped 'self guided tour' but do not listen to the tape at first.Wander around and note what you 'feel' and 'sense' and where you felt it, then listen to the tape and get your validation.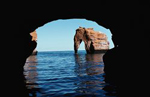 The hot spots to 'tune in to' are the Barber shop, Block A which is closed off, but the entrance to what the inmates called "The Dungeon" is there and you can feel the dark negative energies swirling up out of that opening.The public official (what the park rangers there will tell you) statement is that there is NO dungeon.Watch the movie, Movie in the First Degree before you go.It is based on true fact, and if you read up on the Island it is explained in detail why they still to this day avoid that subject.The books will also confirm the existence that was originally the remainder of an older fort prison, which is directly below A… and you can work your way down below from outside that building and check it out to see for yourself that there WERE indeed cells where they say none ever existed.
The downstairs shower room has so much 'tourist traffic' that most of the spiritual energy stays away, but if you go and stand around the sides of the room or on the spot where the showers used to be…you can get many 'echoes' in vibration as some died right there, and many of the prisoners were attacked, raped, and/or stabbed there.They now offer overnight excursions to a certain number of people each year, if you can help clean up the island if you are chosen, but are you ready to lay down your head to sleep where the spirits of rapists, murderers, and thieves wander?You need to be very experienced and very clear to take that on.
If you'd like more stories of my adventures in Ghost Hunting, I can tell you about the historic and quite haunted town I live in now, or the Winchester Mystery House, or the Queen Mary, or the Battlefield near New Orleans, or the Mansion called Oak Alley, or the Brown Museum (haunted house open to tours in Nevada), and many more of my….adventures!I love my life!