Many times in our lives, we hold onto situations and people that not only cause us misery, they stagnate our growth. So how do we know when it's time to move on?
1. The person or situation in question becomes your (negative) focal point in day-to-day living.
2. Despite your best efforts, intentions, and time, the problems you perceive persist.
3. You find yourself continually giving in to situations simply for the sake of keeping peace.
4. Your self-perception starts to change. You were once confident and strong, and now you find yourself groveling and feeling needy.
5. You have sacrificed things that are important to you simply for the sake of having something to hold onto that brings no true benefit to you.
6. You keep waiting … and waiting for things to change, but they don't.
7. You are being somehow neglected or abused physically, mentally, or emotionally.
8. You have a strong feeling or knowing that this isn't where you're supposed to be.
9. You feel life has something more in store for you, and even though you're not sure how to get there, you're ready to start moving forward.
10. You begin to notice everything around you is changing and you feel out of control.
The universe will only be gentle with us only for so long when we ignore the signs, symbols, and guidance provided to us to begin moving in new directions. We are here to learn, grow, and experience the highest joy and peace imaginable.
If something isn't working for you in your life, instead of looking at failures and what you don't want, take the steps forward and become empowered through deciding what you DO want. Decide what your future holds. Explore your options. Have faith in yourself.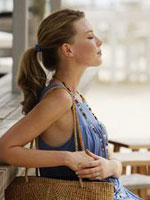 Believing in ourselves and our inherent value gives us inner strength and the motivation to move forward, which is what we all really want. And when we're on the right path and moving forward, things seem to fall into place with new opportunities presenting themselves to us in a myriad of ways. When a situation or person continues to challenge us and never improves, it's time to take stock of our position and make some tough decisions.
The message spirit brings us today is this: The unique combinations of talents, abilities, and characteristics we possess have been gifted to us for a reason … for us to reach our full potential and to find joy in living, loving, and sharing. Each one of us deserves to be happy, free from living in fear and lack, and to choose from infinite opportunities the universe provides us with. No exceptions!

Giovanna