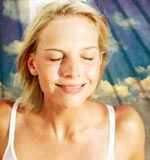 People ask, how do you quiet your own mind when you barely find the ability to focus on a book you want to read? For all those who quiver when being presented with the idea of meditation, I want to call it something different, I am going to call it "visualization," and I say everyone can do it.
Why is it so important to do this? Because if one visualizes specific things over and over, they become imprinted in one's subconscious mind, and this is what creates your reality. There are plenty of people who try to argue this and swear that their reality is created by conscious choices. Which is predominantly true for "healthy" people.
Many of us had bad things happen to us. We are all survivors of one thing or another, but what differentiates us and defines us in character and spirit is how we are dealing with the bad things and how we are treating those around us as we are hurting. Lashing out, abusing and bad-mouthing others are definitely not the strong suits of great spirit and character.
When we drop our attachment to being a victim and take true responsibility for our own well-being and state of mind, we create a world that is fairly free of suffering and predominantly filled with joy and happiness.
The more we become our "higher" self, the better the quality of our lives become.
So, before I received a job offer from any of the companies, I felt it was the right thing to do to quit. I had no other job lined up, my husband had just returned from his project, but that didn't stop me. I had never felt stronger in my gut that I had found my purpose and it was not working for the giant, making a gazillion dollars and having a whole boat load of prestige attached. My calling was out there and I didn't quite know what that would be, but I did know that I was close to finding it.
My last day with a gaming company was Friday, February 19. I had marched into my boss's office three weeks prior and told him that it was time for me to move on. I felt in my gut that I was about to get my chance, and the feeling was so overwhelmingly strong that I walked out without having a back up plan –- or job.
I visualized. I decided that I wanted to align all my efforts and energy from now on with strengthening my higher self. I had decided that I wanted to fight fraudsters, but in an environment where it would aid other people.
I visualized a life in which I was married to my soulmate, the man who'd love me more than anything else in the whole world and thought me all the things others did not.
I visualized working in a company that made a difference, fighting crime and having fun, whilst living in my own home.
In other words, I visualized that turning 40 would be the beginning of the life I always wanted and the death of the life I had lived, which was a lie.
I believed it so strongly that I created EXACTLY that. I have found my bliss, and I created it out of a pile of rubbish, and so can everyone else out there!
The only person that is stopping you, is you!