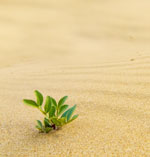 If you saw our recent blog poll, most readers believe that miracles happen every day. But if you're someone stuck in the daily grind waiting for your big break and dwelling on what you don't have … you might not be in a mental state ready to recognize miracles when they come your way.
In a provocative blog post on the Huffington Post, Dr. Judith Rich asks, Are You Available for Miracles? She posits, "We are the wizards, the Merlins, the alchemists, the ones who can transform our thinking and thus, turn the lead of our lives into gold. But to do so, we must be "willing to notice". We must be available for the possibility that in any given moment, we can meet life exactly as it is and create miracles."
Psychics, readers, what do you think of this viewpoint? Where do miracles come from? Do we have control over what comes our way? How can we make miracles work for us?