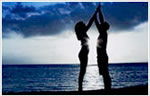 If you're not one to wait for the universe to take its sweet time, then it's important to know what kind of person you are in order to find your best strategy for finding a soulmate, tells Tammy ext. 9380. "If you are inclined to pursue, then get active, get out there and make sure you are in all kinds of places that speak to your heart. If you attract people to you, visualize them and listen for inner guidance."
Be open to dreams and signs and the universe will guide you to your soulmate, Becky ext. 9605 believes, who at age 34 recently met her soulmate online. "Use your intuition when meeting people. Don't assume that everyone is your potential soulmate. Never force or be forced to connect with someone. When the universe brings this person to you, you will both feel it without a doubt. I've had soulful connections before, I've been proposed to… but I've never felt butterflies in my feet. What a feeling!"
Our psychics, who believe in being proactive in seeking out a soulmate, suggest creating a love list – a wish list of characteristics, wants and inner needs you'd like to attract. Write it in the present tense and then release it to the universe. When you wake up in the morning, grab your list and say out loud, "Today as I go about my day I am open to meet the perfect person for me with the following qualities…"Then read your list. When you finish, affirm,"I am open to meet this person and have them love me as much as I love them." Do it every day for at least one lunar cycle, or 28 days.
From the intuitive point of view that there is nothing we can do to make the other person come to us in a flash, our psychics' consensus is to just stop looking – desperation tends to send soulmates running. Stay out of the universe's way. When we try to orchestrate things ourselves, we often end up delaying the process or settling for second best. Instead, put yourself "in the meantime." It's a place of self-improvement, finding one's niche and becoming the person that the universe wants us to be. "Through cultivation of our spirit-filled path and the ability to be complete and happy, we draw our soulmate to us."
Jonathan ext. 9601 agrees, "If you cannot find happiness and contentment within yourself, there is nothing that can bring it to you. Your soulmate will not be drawn to you unless (and until!) you are content with yourself. Content souls meant to be together will find each other."
When a soul is ready to find a mate, and the universal timing is imminent, psychics have various ways of reading the meeting. "I can see a pink light around the caller and the person they are meant to be with. I can also sense a giving, loving feeling emanating from the other person. It's a definite draw, like two magnets," describes Ariel ext. 9775 .
One of my favorite readings is a "soulmate sighting" says Tammy. "Working with the caller's name and general location I look around them Clairvoyantly and see who shows up!"
Whether you meet your soulmate after intentionally working to attract them, or bump into them right outside your front door… the relationship only begins there. All relationships require work, even when they're made up of two like souls who love and respect each other.