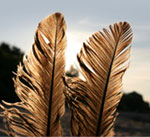 David Richo's new book The Power of Coincidence: How Life Shows Us What We Need to Know is based on an age-old principle: that meaningful coincidences, or synchronicities, can help guide us in our lives.
Synchronicities are coincidences that seem to be meaningful – for instance, you might be walking in the supermarket wondering if your husband loves you, and suddenly hear an advertisement playing on the store radio say "Does your husband love you?" Or perhaps you're looking at a picture of an old friend, and they suddenly call or Facebook you. This is synchronicity. In previous eras, synchronicities were called omens, signs, or portents and were often considered messages from the divine. Decisions were made based on them, kings ruled by them, and empires rose and fell based on how they were interpreted.
In our recent history, psychologist Carl Jung wrote extensively about them, and research studies have been conducted into why they occur – and, more pressingly, why people invest so much energy into attributing meaning to them. Why they occur has been the subject of endless interpretation – synchronicities have been attributed to everything from the collective unconsciousness to messages from angels. But whatever the reason is that they occur, they do occur, and the question is how to pay attention to them and use them as signs and guides in our lives.
However, many psychics will attest to that fact that when they begin to work on developing their psychic abilities – whether they are learning energy work, healing, dreaming techniques, clairvoyance or any other skill – the number of synchronicities they are experiencing will increase. Why is this? Could it simply be that, because one is paying more attention to the "stranger" aspects of life, one simply begins to notice what was already occurring? Or does effort at spiritual growth actually have an effect on the world around us? Is the universe winking "hello"?
Of course, as anybody who has experienced synchronicities can tell you, they can seem important, almost as if there were no possible way that they could have occurred "by chance" – however, they can also be maddeningly hard to interpret. They never seem to give a direct "do this" or "don't do this" message. At most, they seem to be signs just to pay attention, as Richo's book points out.
What's your own take on synchronicities and coincidences? Why do they occur – and what are they trying to tell us?