What's the best way to contact deceased loved ones? Will they speak to us on the other side? Learn how to tell when someone who's passed away is around you. Here are some easy signs to get you started communicating with the deceased – who are very active, by the way, on the other side. When my son passed away from leukemia, I never thought I could recover from that, but he has helped me every step of the way. Since I am a medium, I had a head start in the communication department, but it really didn't help me too much at the beginning. With practice, I believe you can connect with your deceased loved ones. Below is the short list of how to know that a deceased loved one is around you. Get in touch with a deceased loved one by talking with a medium today.
– A smell that reminds you of them: perfume, tobacco, pipe smells, cooking, incense, etc.
– Number combinations connected to when they passed or their birthday.- Pets going berserk, like they are playing with someone, or just staring into a corner for extended periods of time. Pets are very strongly connected to the other side, and are more sensitive to the energy there.
– Shadows moving around places they used to frequent.
– Hearing their voice out of the blue when you are half asleep or just waking up.
– Hearing their voice when you are wide awake.
– Lucid dreams, the ones that feel so real. This can usually mean a visitation from the deceased loved one.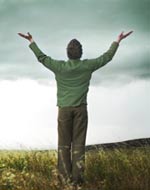 – Columns of air, warm or cold, in places they used to frequent.
There are many more ways to know that a deceased loved one is around you, and they can come as one thing or a combination of things. The more you acknowledge the signs, and the more that you look for the signs, the stronger and more appropriate they get. You must ask them for a sign to begin with, and then expect the sign to be there. You can experiment with what kind of signs you want, and you can be as specific as you want. They are more likely to communicate with you personally than they are with me, and they are always ready to communicate with you when you need them.
Stay out of the fear of this type of communication, and you will be pleasantly surprised at the results. I was asked by quite a few people: "How do you know you are talking with your son?" My answer is always the same – "Because the alternative is unthinkable."
Spirit communication like this is extremely positive for a lot of reasons, but the main reason I believe is so that we can be at peace ourselves, knowing that they are safe and happy. It can also help you get closure with a deceased loved one that you had an issue with. Once they've made their transition, they are with the angels, so they're happy and finally "get it."
I would be happy to answer any of your questions about spirit communication for future blogs, so don't be afraid to ask.