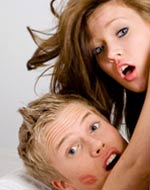 A recent study conducted by the State University of New York at Binghamton suggests that those who cheat and sleep around could, in fact, be genetically predisposed to the behavior. The study linked a specific genetic variation with infidelity – the same genetic variation, apparently, which has also been linked with "alcohol consumption, gambling, a love of horror films, and openness to new social situations." The Huffington Post reports:
In looking at potential biological mechanisms for sexual pursuits outside of a union, Justin Garcia and his team of researchers interviewed 181 participants about their sexual behavior and relationships, in addition to taking cheek samples of their DNA. Findings indicate that, regardless of gender, those with a DRD4 genetic variation – 7R+ – were likelier to be promiscuous, as in one-night stand, or to cheat on their spouse, with 50 percent of them having been unfaithful (vs. 22 percent of the participants who did not have this genetic variation)…

While nobody should mistake these findings as a cause-and-effect relationship between one's sexual behavior and genes, the research does raise the question of just how much human behavior – and moral decision-making – is due to one's genetics. With brain chemistry appearing to play a role in one's ability to commit, as with the Swedish study, people are sure to ask if potential partners should take a marriage-worthy test in weeding out those who might be thrill-seekers of the unapproved sort.
What do you think – is cheating really encoded into our genes? And can we expect the excuse "it's just my genes, honey" in the near future?