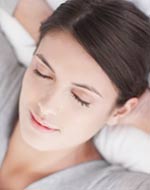 For many years, I've used and taught the skill of visualization. You've probably heard how visualization can be used to bring things you desire into your life—visualization is, in fact, a powerful form of magick. I know that the term "magick" can be scary (I use the extra "k" to indicate that this isn't stage tricks), but there's nothing to fear. Magick simply means using your mind, body, and spirit to achieve desired goals. There's nothing spooky about it.
Unfortunately, many people who try visualization don't succeed. After years of refining how I teach the technique, I've come to the conclusion that some of the teachers omit the real secrets. I'm going to reveal them to you so that you can use visualization to finally get the things you desire.
Key #1: The theory of visualization. It's important to understand how visualization works so that you can use it. You may know you have an "astral double," a non-physical version of yourself existing on the spiritual level known as the astral plane. As a comparison, your brain—that grey matter between your ears—exists on the physical plane, while your mind is non-physical and exists on the astral plane. Everything on the physical plane—our world—has an astral double. Most importantly, things must exist first on the astral plane before they exist on the physical plane.
Consider an inventor. Before the inventor can create something, he or she has to come up with an idea for what to invent. First the idea, then the creation. That's because when you create something in your mind, you are also creating it on the astral plane. And whatever you create on the astral plane must manifest on the physical plane.
Key # 2: "Visualization" is a name. One reason some people fail with visualization is that they think they must "see" something in their mind. Some people can see things in their minds, others cannot. If you have trouble "seeing" with your imagination, that's okay. For visualization to work, all you must do is be absolutely, 100% positive that you are using all of your power to create your goal on the astral plane. This means not merely hoping or wishing for something, but being completely sure that the realization of the goal must be yours. If you aren't totally positive that you should achieve your goal and that the visualization will work, the technique will fail.
Key #3: Visualization is 24/7. Although what you create on the astral must manifest on the physical, experience shows that most people don't achieve their goals. This is because creation on the astral takes place all the time. If you spend five minutes visualizing a desired goal, but the rest of the day you worry about it, you're actually spending all of that energy to work against the goal you desire; you're visualizing the opposite of your conscious goal.
The solution to this challenge comes in two steps. First, when you notice that your thinking is in opposition to the goal of your visualization, immediately spend a minute or two recalling, with all of your might, the goal you desire. Second, let it go! Your visualization will set your conscious, unconscious, and all the powers of the universe working to achieve your goal. Get out of their way and allow yourself to succeed.
Key #4: A visualization technique. After you have decided on a goal (and it would be a good idea to have a reading to see if the goal actually will be good for you), do the following:
After you wake in the morning, say the following: "It is my will to use all of my powers to achieve ____________," filling in the blank with your goal.
Immediately spend five minutes visualizing—or imagining with all your being—yourself having already achieved the goal. Involve all of your senses. What does it feel and smell like when you have it?
If, during the day, you have any thoughts contrary to the goal, repeat the statement several times until you're sure the goal is yours. Then let it go and get on with your day.
Donald Michael Kraig graduated from UCLA with a degree in philosophy, and has become a certified hypnotherapist and Master NLP practitioner. After years of personal work and study, Don began teaching workshops on the Kabalah, Tarot, Magick, past lives, Tantra, meditation, the chakras and numerous other subjects throughout the U.S. and in Europe. His book, Modern Magick, is the most popular step-by-step course in real magick ever published.