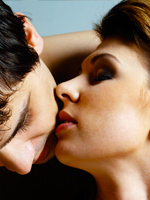 Which appealing package describes your Aries? That fabulous-looking athlete, the boss with boundless energy and confidence, or maybe even that intriguing person with the buff body who turned out to be MUCH older than you thought, but who cares? Aries endows its people with an amazing youthful appearance and energy level, seemingly forever. Aries, ruled by fire and Mars, is fueled by passion – keep your Aries excited and you have their attention, maybe even their devotion. And you, like a moth to a flame, keep going back for more of their dynamic energy.
The fearlessness and passion of the Aries is the turn-on we might expect from a "god" with this sign-ruler's history. To give you a feeling for your Aries love, we can go way, way back to the ancient Babylonian god Nergal. Images of him from thousands of years ago show that he would be considered a handsome "hottie" today. Here's the good news about this Nergal-type – loyalty – once they're hooked, they are likely hooked on you for life.
Nergal's heroism caused the other gods to send him to the Underworld to retrieve a gift denied by the goddess of that realm, Erishkigal. After enduring the unbelievable feats in his path to Erishkigal where he was to confront her and make the gods' demands, they simply laid eyes on each other and all else was forgotten, for seven days of intense love-making. Does that sound like your Aries love? When Nergal had to return to his own territory, he and Erishkigal remained true to each other through eternity. In spite of required separations due to their godly duties, Nergal always returned to his lover. If you keep your Aries impassioned, they are yours.
Today we know the ruler of Aries to be the Roman god Mars, who evolved from the Greek god Ares. Ares and Mars were later versions of the gorgeous, fiery Nergal, and the beautiful Egyptian god Osiris, the great broad-shouldered hero we see with his bow in the winter night skies. Mars was unbeatable as a warrior, but the one force he bowed to was the irresistible charms of Venus. Their mutual attraction made them eternal lovers like Nergal and Erishkigal. Never mind that Venus was married to Hephaestus, they couldn't help themselves – as you know – that Aries of yours is irresistible, too.
That pure Mars passion makes Aries and Scorpios the most energetic and intense lovers of the zodiac. The term, "every which way but loose," must have been written about an Aries lovers' moves and sheltering arms.
Here's some exciting and challenging news about your Aries lover. Or, if you are an Aries who likes reading about how irresistible you are, keep on reading, since this is about you! Jupiter and Uranus have entered the sign of Aries, and this combination promises excitement and surprises beyond your imagination. If you like it quiet and homey, be ready to deal with your Aries's energy being multiplied – we know, we know – it's already beyond amazing. Also, a desire for adventure and impetuousness may overwhelm them. It would be a good idea to be understanding and, if possible, go along for the ride.
There is a pretty strong likelihood – given the planets making aspects to this exciting alignment, that these ideas may seem unrealistic or irresponsible to you. Rather than just saying so, you might want to ask for a night to "sleep on it." You know your Aries is always ready for the bedroom. That would be a great time for both of you to sort things out. You may have to supply the patience your Aries is lacking these days. Will it be worth it? Think about Nergal and Erishkigal, and Mars and Venus, and you decide. Eternal love might just be worth it. You do find each other, after all, irresistible!