What do you do when you realize your soulmate is married to someone else? Will they eventually choose me? First let's realize that soulmate is an often misunderstood phrase.
What to Do When the Dream Gets Away
Soulmate is an oft-misunderstood phrase. I prefer to refer to a deep spiritual connection as a "Soul to Soul" connection, so that we can understand that there are indeed multiple opportunities for us to connect with another "human" on a spiritual and soulful level. There is no "right" or "wrong" answer that fits for this situation all the time, or for every experience. What you have is a situation that requires choices, wisdom, and action—not judgement. To really determine clearly what your path is, call your favorite psychic and give them some of the details, the more detailed the question, the more detailed the answers can be! Help us to interpret the images, words and energies we are picking up to give you the clearest guidance in your situation.
The biggest questions on this are about when, how, or if, the person who is your soulmate is actually going to deal with their current legal mate. Often we hear questions about how you should handle the situation, or "is there anything that I can do to move it along?" These are specific areas where we can help you to see the bigger picture based on each individual situation, there is no blanket advice that fits all of you.
Another big question is, "IF they are MY Soul Mate then isn't it a given they'll choose ME?" The quick answer is: no, it doesn't necessarily mean you will be together. Now, again, this is very different case by case, yet you need to be clear that being that spiritually connected is not a simple "pass" to clear away any or all obstructions to being with your current Soul to Soul connection. Sometimes we take on "lessons" or "challenges" as mortal human beings that our soul must accept for this one lifetime. If you could rise up to your higher self, you might be able to see what we cannot see from "down here." Is it meant to be in this lifetime?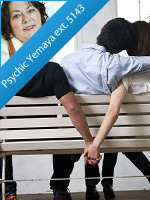 Now for some of you, this current "marriage" is NOT an obstacle, it is merely the chapter before your chapter together. In this case, you need to see that there are spiritual lessons that come from that union. Does that mean that it will end soon, or easily? Again, no, usually lessons are not taken with open arms… human beings resist change, we fight losing our attachments, we feel ownership and control towards each other. How easily they "let go" depends on the spiritual and mental well being of the two involved.
So to sum up the advice I give here, aim for a good outcome, yet accept and support the future to unfold as it is meant to in this lifetime for you and this particular love. Either you will find joy together after the current lessons, or you are meant to learn and let go and then move on to another love to find that joy and fulfillment. Blessings on your journey.