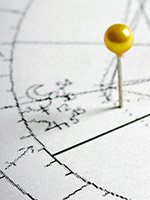 Just about everyone knows his or her sun sign, the placement of the sun on the day they were born. Sun sign horoscopes are what we read online, in newspapers and the first thing we ask an astrologer about when we want to know "what's happening" in our lives. So why would anyone need to know their moon and rising signs? Well, your sun sign is a picture of your basic self, but knowing your moon and rising signs as well gives you a three-dimensional picture of the unique person you are.
Your sun sign is your core; your moon sign is your emotional self; and your rising sign (also known as your ascendant) is how you present yourself to the world.
Sun Sign – "It's just me"
Our sun sign is the one sign most of us identify with. It's home base. It's the things you like, and why you like them a certain way. When you meet someone who shares your Sun sign, you may find you have a lot in common, or consequently, you may find yourself wondering how two people born under the same sign could be so different. The answer can be found in the Moon and rising signs.
Moon Sign – "I feel"
Your moon sign is your emotional center. It's the source of your reactions to other people, different situations and even how you feel about yourself. Your moon sign is determined by the moon's placement at your time of birth. This is the part of you that you may only choose to share with those close to you.
Rising Sign – "Hello world"
Your rising sign, or ascendant, is the part of you that you show to the outside world, and how you present yourself to others. It's the physical you. Some astrologers also believe that your rising sign will also tell you your soul's purpose.
Your sun sign, moon sign and rising sign form a three-dimensional view of who you are. Each is as important as the other, but understanding how they work together, can give you a deeper understanding of self, why you do the things you do, and why you feel so strongly about particular subjects, and it may also provide you with clues to putting you on the path to true happiness. This trinity of signs is what makes you so unique.