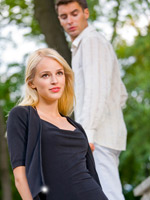 Learn to recognize signs that you were connected to someone in a past life. Trust your intuition to recognize past-life prompts. In his book Journey of Souls, hypnotherapist Michael Newton explains how he discovered, through past-life regressions of his clients, that we each have a circle of souls that we choose to reincarnate with from each life to the next. However, because most memories from past lives are unconscious, we need triggers to remind us who these people are and to help us recognize them when we meet again on Earth.
Recognition Class
Newton hypnotized his clients to the time between lives to see how the plans for the next life are created. With the help of guides in the spirit world, we choose the major events of our next life and decide how certain people and places will play into our plan. The last thing we must do just before coming back to Earth in human form is attend our "recognition class."
According to reports from Newton's clients, we attend recognition class with about 10 or 15 people who will be close to us in the coming life. If we travel from life to life with a primary soul mate, then he or she will be there. Also in attendance are people who will teach us important lessons, help us with our careers, or become lifelong friends. The recognition class is led by a spirit guide known as a "prompter."
Types of Triggers
The prompter informs us of small details about people and places that serve as flags for us to notice. A recognition signal could be a particular type of jewelry that someone wears, a specific perfume scent, or the sound of someone's laughter. It could be a photograph or other visual image that strikes us. Or it could simply be a "feeling" that is hard to describe and impossible to ignore.
Recognizing Triggers
Paying attention to your intuition is one of the best ways to recognize these past-life prompts. Also pay attention to synchronicity and odd sequences of events. If a little voice inside of you urges you to do something, don't question it. Simply act on it. That's what one young man did when he was bidding "bon voyage" to friends leaving on a ship. He noticed a little girl on the dock and felt the need to photograph her. He did so, never knowing who she was. Years later, he showed the photo to his wife, who was shocked to see that the little girl was her!