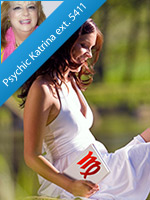 (August 23 – September 22)
Virgo, the mutable earth sign god/goddess of the Zodiac, is the master of all the little details, because for Virgo God is in the details. Perfectionistic, pure hearted, hard on themselves, service oriented, Virgos are great with the practical aspects of life.
Got that urge to de-clutter? Call a Virgo. No one, but no-one, is better at making order out of chaos than this hardworking and meticulous adaptable Earth sign. With their squeaky clean productive energy and discerning eye, they'll whip your house, apartment, attic, closet or basement into shape in no time at all. Those obliging and detail-oriented Virgos love to be of service and to be productive by sweating all the small stuff! It was probably a restless neatnik Virgo who said "Idle hands are the devil's workshop."
On the other hand, if one of those pure hearted Earth people happen to be a closer relative or a co-worker, watch out! No one is better at telling you what's wrong and what to do about it then these self-improvement fanatics are! With their ruling planet of Mercury, they will use their considerable communication and analytical skills, leaving no stone unturned, until they've set you straight. That way you can be perfect just like them. Perfection is a Virgo's middle name.
They've got their work cut out for them, though… Nothing less than total flawlessness will satisfy this Paragon of Perfection. If you think they're hard on you, relax! No one is harder on themselves than poor, all-too-human Virgo aspiring to demigod or goddess status. It's enough to give them an ulcer. Watch out that these worry warts don't come down with stomach ailments, cause Virgo rules the intestines, the stomach and the nervous system. The good news is as natural rulers of the Sixth House of health and daily work habits (and pets!) With attention to all the latest nutritional and health food products and programs, that should improve soon as well!
These humble self-sacrificing do-gooders are observant, adaptable and highly intelligent, learning from their mistakes, in truly inimitable mutable or adaptable style. They've got a thing or two to teach those fixed "I won't change this nasty habit even if it kill me" types (You know who you are Aquarius, Taurus, Scorpio and Leo) or that A type personality of those executive cardinal types (those bossy Capricorn, Cancer, Aries and Libras), who always "don't have time to go to the gym, I have a deadline!"
Still, no-one is more pure hearted and without hidden agenda than these practical and sensuous, though sometimes conservative, helpmates. Only a true blue Virgo derives pleasure from picking up your dry cleaning, walking your dog or helping you out of a jam!
With Mercury the ruler of discerning Virgo in retrograde (from August 3- August 26) during your birthday this year, cross your I's and dot your T's, as miscommunication is rife this month. So do double and triple check all travel plans and communication related matters, and avoid signing contracts and deals if at all humanly possible, Dear Pure-hearted One. Take care of yourself – you're always taking care of everybody else!