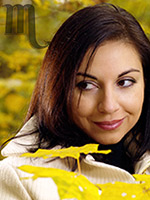 Learning what you can do to date and love a Scorpio can take some investigation. They have a sensitive heart and an honest tongue which is quite the combination.
If you're hot for a Scorpio, and he's hot for you, then you are probably someone who loves a mystery. It's not so much that Scorpios want to be secretive; they just need to know they can trust you with their very sensitive hearts, so they'll take their time getting to know you and even longer to trust you with their emotions. This all begins with the very first look, when their piercing eyes lock with yours. A brief, slow-motion moment that seems to last an eternity; you've been stung by the Scorpion.
Date a Scorpio
To date a Scorpio, you need both a soft heart and sometimes a thick hide. The more comfortable a Scorpio feels with you, the more they'll open up, and the less they'll hold back. Their words can sometimes be biting, but they simply see it as telling the truth.
Dating a Scorpio can be a challenge. It is important to keep it fun, keep it sexy and keep it all about the two of you. The well of emotion runs deep in a Scorpio and their powers of intuition are astounding. Alternatively, they can be possessive and jealous sometimes. It is a hard balance, but let them know if you're dating them exclusively, that they are a priority, while also keeping your own identity. Scorpio will respect you more in this balance of power, and it will keep them in chase mode, which is the best place to keep your Scorpio while dating.
Love a Scorpio
It's true that Scorpio rules the sex organs, but they're not necessarily sex maniacs, they just know what they like and don't apologize for it, why should they? They are constantly in search of the perfect love. Getting their full trust in you will be hard, but worth it. They can be the most loyal partners when truly in love and fulfilled in every way. That may be a lot for some to handle, but the depth of their love is strong and a prize worth attaining. Though they have a tendency to be the one in control, it is you who must be confident and in control. This is one reason why I love Aries as a partner for Scorpio. Aries' need for freedom is matched only by their need to have a sexually fulfilling, exciting relationship. They drive each other passionately insane, at least as far as their sun signs go.
It would be impossible to sum up the complicated idiosyncrasies that make up a Scorpio, but as far as loving and dating a Scorpio go, these are the basics. Many of the things you read about them are mere myth. The best way to date and love a Scorpio is to know one yourself. They are a sexy jumble of emotion, and heart, they exude a certain quiet power, and when they walk into the room, heads turn.