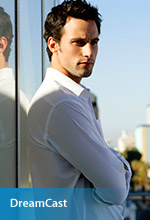 Kimberly in Aurora, Colorado writes:
I have been in love with the same man for almost three years now. I believe he loves me too, but not the way I love him. Recently we had a horrible argument (per the usual for us). Anyway, it's been three months since we've seen each other, and I miss him.
I had a dream about him that was so nice and calming. In my dream, I looked out my front door. My guy drove up and backed his SUV into my driveway and then got out of his truck and into his friend's truck. He made eye contact with me, but then he drove away. I called him on his cell phone to ask if he wanted me to unpack his things from the truck and bring them into the house. He said, "Yes." When I awoke, I felt good inside. Can you please tell me what that means?
Hello Kimberly,
I'm sorry this relationship has been such a struggle for you. The fact that your guy doesn't love you as you love him concerns me. I don't believe his heart is completely "at home" with you. This is depicted in the dream when he drives up into your driveway, almost coming into the house (almost connecting with you), but then drives off with his friend. You're willing to bring his things into your house even though he's gone. That last part of the dream, along with feeling good when you awaken, likely indicates you're comfortable with someone who is emotionally distant.
Your chart reveals some challenges with closeness in relationships. You have an intense T-cross involving your Sun in Gemini; Moon, Mars, Uranus and Pluto in Virgo; and Saturn in Pisces. There is a battle going on inside you between your need for stability and a craving for someone who is exciting/unpredictable. However, Venus in nurturing Cancer says you really need a relationship that makes you feel loved and secure. The challenge is finding a balance with a man between giving and receiving, so you're not the one doing all the nurturing.
Perhaps it would be best to let this man go. You deserve a partner who loves you with all his heart.
Sweet dreams,
Would you like to ask Cortney about your dream? Send Cortney your dream.