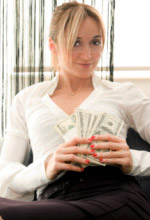 The word karma originates from the Sanskrit word meaning action or deed. In Indian and Nepalese religions karma is the embodiment of the Law of Cause and Effect which says whatever message we send out into the universe is heard, and that is what the universe sends us back. If you're experiencing bad money karma, a change in thoughts and attitude towards money can definitely change your financial situation. If you are having money troubles and would like more personalized advice, contact one of our psychics today.
Thoughts on the Airwaves
The universe listens to us. As beings born of a divine source, we are directly connected and definitely heard. Just like prayers are heard, so are our thoughts, intentions, feelings and words. They have real power. If you're having bad money karma, it's probably because you are always focused on your lack of resources. It's time to change your attitude towards money and to heal your money karma.
Instead of staring at your online checking account day after day lamenting over never having enough, take a serious look at your spending. What are you bringing in (a good time to also be grateful for that job you say you can't stand) and what is going out? Does it leave you enough to feed your family and pay the rent? Are your basic necessities being met? Thank the universe for that. Think about what you can do to make the situation even better. Focus on the positive, not the negative.
"If you are having chaos in your life ask the source for guidance. Just like the famous quote 'Ask and you shall receive'" – Psychic Mimi ext. 5522
Think of your life as a room. Negativity can easily fill a room; gratefulness takes up almost no space. If your room has space to fill, the universe will send more into your life to fill the empty spaces. If your room is filled with negativity, the universe sees you have no room for anything more in your life and won't give you more until it sees you have room for it.
Gratitude and Abundance
Gratitude is a huge part of karma. Even if you lose that job because you didn't appreciate it, be thankful that you have a brain and two hands to get another job. If you did appreciate your job, but still lost it, it's only because the universe sees that you're ready to do something else, something better. Be open to all possibilities and it will set you on the right path. Take a positive attitude and remain proactive.
"With every positive thought and intention we invite an angel into our lives who will help us in achieving the goals we set." – Psychic Seha ext. 9668
Now that you've identified your real money situation, and you appreciate all it has given you, and you have shifted your thoughts from negative to positive, you can start to think about ways to improve your money karma. The skies open up and send possibilities your way. You identify ways to improve and attain the abundance you now believe is possible, and the abundance the universe sees you deserve.
Belief in the powers of positive thinking, good thoughts and gratitude can make all things possible. By applying these principles, changing your money karma is definitely possible. Start today.