Signs of Love
Knowing someone's zodiac sign can be a big clue in knowing if they're right for you. For instance, you could compare your elements, such as water and earth, fire and air. You could also compare your qualities, such as fixed and mutable or cardinal and fixed. However, the best place to start is with the basics. Let's see if you're dating the right zodiac sign for you. The answers may surprise you.
Aries
You do well with other fire signs like an adventurous Sagittarius or an exotic Leo, but for the most electric dating experience, try a challenging Scorpio.
Taurus
Another Taurus can show you the good-life side of dating that tickles your senses, but for constant waves of passion, Cancer gives you the warm fuzzies.
Gemini
No one appreciates your fun and kinky side more than another Gemini, but Libra comes pretty close. Adventure-loving Sagittarius would also be a really fun date.
"Anyone can attract a fun partner by having a fun sense of self." – Psychic Lalita ext. 5408
Cancer
Scorpio makes you melt, and your pincers and their stinger provide that spark you both like. Taurus gives you that relaxed and happy feeling you love. Capricorn suits you nicely as well.
Leo
Aries and you light up the night together, and you and another Leo are the king and queen of the dating jungle. If you tend to be a little wild, you might like the balance a nice and naughty Libra brings to your life.
Virgo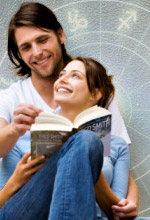 Taurus and Capricorn are star-crossed dating material, while still giving you that solid down-to-earth comfort, but Scorpio's passion could very well hijack your heart.
Libra
You and Aries show that opposites really do attract, and they date pretty well, too. Look to Aquarius for that ethereal, written-in-the-stars feeling.
"How do you decide who is the right man? You will know that you have the right man because you will feel balanced, stable, loved and the challenges that come with the man won't drive you away." – Psychic Leo ext. 5265
Scorpio
You are the zodiac's dating lottery winner, and you love it. All of them are the right zodiac sign for you. You're a passionate and intuitive match for Pisces and Cancer, while you and Aries make dating Scorpion hot.
Sagittarius
You and another Sagittarius are like two kids on a playground, just enjoying the adventure. You need someone as wild and crazy and spontaneous as you are. How about an Aries or a Leo?
Capricorn
You and Cancer are literally a case of opposites attract. You also will love dating Scorpios and Pisces, giving you a whole pool of dates to choose from.
Aquarius
You and another forward-thinking Aquarian could imagine your dating life lasting far into the future. Let Gemini and Libra sweep you off your feet, and give you that feeling of dating nirvana.
Pisces
Taurus courts your eccentric side quite nicely, but another Pisces could push the dating needle off the charts. Dating a Scorpio gives you passionate and memorable moments you'll probably never forget.
Give the Zodiac Wheel a Spin
Using the zodiac as your guide to dating can be a fun adventure. Dating the right zodiac sign can be the catalyst that takes you from being a dating couple to a forever couple.