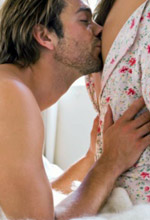 Catch a Pisces by the Toe
Make your lover marvel at your mastery of their body. Learn the secrets of erogenous zones by zodiac sign, make all the right touches in all the right places, and leave them begging for more. Think of it as erotic astrology.
Head to Toe
From the top of the zodiac to the proverbial bottom (or back around to the beginning), so follow the parts of the body that each sign rules. From Aries' head to Virgo's stomach, right down to Pisces' feet, the zodiac wheel is a map to the human erogenous zones. You might also look at someone's rising sign as well as the Sun sign for clues to those sensitive spots. Need more insights on how to understand your lover? Talk with Psychic TeriLynn ext. 9625 and learn the secrets of your lover.
Aries: Aries is the head of the zodiac and that's just where you'll get their attention. Stroke their hair, admire their eyes and whisper sexy suggestions in their ears.
Taurus: Adoring their sexy neck with soft, sweet kisses and adorning it with jewelry will make the down-to-earth bull float among the stars.
Gemini: Deepen that connection with a heavenly massage from their shoulders to their fingertips, and you just might make their toes wiggle.
Cancer: Passionate Cancerians rule the breast and chest area. Deep, long kisses on the mouth and chest can drive them absolutely crazy and make them melt in your arms.
Leo: Long sexy strokes down your lion's back will go a long way. A head to tail massage will make them purr from all the erotic pampering.
Virgo: A single finger outlining Virgo's waistline, from the inside of their clothes, will set their tummy aflutter. They have sensitive tummies, and love being touched all over. Anything could happen.
Libra: Librans love the balance of both of your hands on both of their cheeks, bottom cheeks that is. Concentrate on their lower back and butt, rubbing, squeezing and kneading and maybe even spanking.
Scorpio: Scorpios get to the heart of erogenous, enjoying all the attention you can give to their most private parts. Touching their erogenous zone with any and all parts of your body leaves nothing off limits.
Sagittarius: You're Sag is fun-loving in and out of the bedroom, but a few gentle strokes up and down the inner thigh and they'll get seriously aroused.
Capricorn: Sit next to Cap, touch knees and let it linger. Put your hand on their knee and you've got their undivided attention and probably a chapter in their next tell-all book.
Aquarius: Make sure your foot massage includes the ankles, and feel free to include the ankles in any and all foreplay, etc. Aquarians have a kinky side, as do many signs.
Pisces: Pisces men love to look at Pisces women (or any women) who have beautiful feet. Painted toes, sexy, strappy shoes, all leave the feet in need of pampering and this is the way to a Pisces' heart.
Now that you've learned the secrets to erogenous zones by zodiac sign, it's time to put your erotic astrology knowledge to work. Drive your lover crazy.