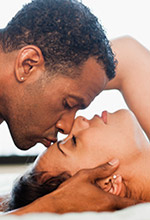 Check Your Cheat Sheet!
To seduce a woman's body, you have to seduce her mind first. And to turn on her mind, you have to act with respect, care and confidence. Below you will find six tips for seducing a woman with your words and actions. Which ones could you start with today?
1. Be an "I Love Every Part of You" Kind of Man!
Men find it amusing to say that they are a "Leg Man," a "Butt Man," or a "Breast Man," et cetera. However, women typically do not appreciate these labels. If we fortunately have that body part you favor, we may still become insecure if we spot another female with perhaps a fuller chest or more toned calves… Women remember these comments you make in passing. Even if it is true, it is probably best to say that you love every part of our body equally, and reach a point in the relationship where you really mean it! I know that my boyfriend loves me and every part of my body, so that provides the ultimate security, making me more comfortable to get naked and intimate.
2. Tell the World That I Am Your Girlfriend, Fiancé, Wife…
Tell your friends, post it online, introduce me to your family – all these declarations show me that you are serious about including me in your life. Commitment is a huge turn on. It is even better when you publicize your commitment. Women want a man who is "all in" and will let everyone know that you are his prize.
3. Just Squeeze Me Tight
Hold me with passion, keep me close, cuddle me, snuggle me, and spoon me. Women typically like to cuddle, so find out how and when we prefer this closeness. For example, spooning is my absolute favorite, especially when I am really sleepy. Cuddling will seduce most women in that moment, and it will definitely seduce us in the larger scope of our relationship. Achieving genuine propinquity in your relationship will only happen if you create opportunities for emotional, physical, and sexual closeness.
4. Give Me Some Space – A Drawer or Nightstand, I Mean
Make us feel permanent by giving us space at your place. If you want us to come over and feel invited, make it more convenient for us to leave some essentials at your abode. It is quite thoughtful when a man considers our needs without us even having to ask. Gentleman, take note: You will get major points for offering a special place for us ladies to keep our sleep over items. Even more points if you give us our own toothbrush next to yours. It is a symbol of permanency.
5. Be on Time, Early, or at Least Have a Great Excuse if You're Running Late!
Being on time is a turn on. Respecting our time indicates you will respect our daily schedule as well as our overall life plan. Ladies have a biological clock, and we want someone who will give us the "big hand" now and forever. Women fall in love when we are around men, so you need to be around often and when you say you will. Men, on the other hand, fall in love in women's absence because that gives them the needed space to increase desire and invite commitment.
"Relationships magnify the human experience." – Quinn ext. 5484
6. Talk About Our Future: Family, Marriage, House, Car, and Savings…
Bring it up first, please, but only if you see a future with us. Let us talk about it and get it out there in the open. This will make us comfortable getting closer to you in the bigger sense. Knowing you are so committed to us long-term makes us want to please your body in the short-term.
Notice that women generally think more in the long-term and greater sense of seduction while men think of short-term and ephemeral seduction. When men shift their view of seduction into the larger scheme, it makes women more comfortable and willing to get intimate. If you are following all these seduction tips, and you do not feel like this approach is effective enough, consider calling a psychic to determine exactly what is going on in your love life, and how you can seduce the woman of your dreams into your bed and into your heart.
"Attracting sex is simple. The hard part is when someone believes that sex and love are the same or that one will naturally lead to the other." – Reed ext. 5105