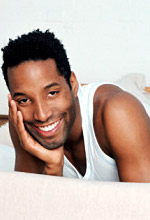 Signs He Wants to Have Sex (Besides the Obvious One)
Signs that he wants to have sex can be obvious, but there are some other subtle tells to look out for. Not that women need help to decipher the seven times a minute most guys are planning for sex. However, in the real world, we know that many men think about sex only a couple of times a week (if not a month). The all-night sex machine is slowly being replaced by a modern man who is capable of feeling stressed out, insecure, and may not always be "happy to see you." For the real men, who aren't as reliable as Energizer bunnies, I present to you five (not so obvious) signs that he wants to have sex with you.
1. Sex is in the Air
There is a good amount of evidence suggesting that men release their sexual intentions through airborne pheromones that emerge through their sweat glands, saying, "Yeehaw." This may happen even though his little man might seem to be saying, "Why don't you come back tomorrow." This is what is considered to be a woman's intuition for knowing when Mr. Sparky is ready to play. As it turns out, you really should rely on your instincts when it comes to these matters, as the brain has been designed to pick up on a man's most subtle cues.
2. The "Oh" Face
You can tell a lot about a guy by studying the expression on his face. Women don't have physical signals that are as obvious as men's when it comes to deciphering sexual arousal. Research suggests that when a guy is interested in getting frisky, he will study a woman's face, looking for telltale signs that she is in the mood. This is usually the very same curious look he gives while trying to figure out how to rub your breasts so that it feels good. This is what some women have come to know as his "oh" face ("Oh, you do want to have sex").
3. His Leaning Tower
Men can get an erection while thinking about a woman or fabricating bird feeders in the garage. Women imagine that when he adjusts his manhood (think Michael Jackson) it is a clear sign that he is uncomfortably at attention and in the mood. This is not always the case. Researchers say there is a big difference between a physiological erection and one achieved from stimulation within his mind. This is one of the biggest reasons why the love drug, Viagra, is rarely refilled after the first prescription. Getting a man in the mood is often mistakenly believed to be all about his erection. However, what should really be involved is exciting his big head long before his littler one. Most guys in relationships like a little foreplay. Just because a soldier is standing at attention, doesn't mean he's ready for battle.
"If you think you are sexy your partner will think you are sexy!" – Psychic Deejay ext. 5435
4. Mind Games
Unlike most things in life, a man can't work hard in order to make himself "hard." As it turns out, the best way for a guy's sexual system to function is to just let it happen. Guys often allow their head to get in the way, and think that they can "will" their member into readiness. This is usually when he allows too much thinking into the bedroom and ends up having difficulty maintaining his normal performance level. What this means is that men are more likely to be aroused when they least expect it. It is not the lazy guy lounging in bed on vacation that will be difficult to talk into having sex. It is the guy, who is pinching his nipples, talking dirty to himself, and promising that this has never happened before.
5. The Nose Knows
Rather than base your decision to approach your guy solely on the direction his crotch is pointing, take note of other physiological cues, such as dilated pupils, increased heart and respiration rates, and the engorgement of blood within his face. The increase in blood pressure associated with arousal can make his lips appear full and red, while also causing parts of his face to tingle, which may prompt him to lick his lips, scratch his ears, or rub his nose (interestingly, these are also signs of him lying, so try not to confuse the two).
In short, guys may not always be easy to read. However, if you can change a light bulb, you'll probably eventually get the hang of it!
"Sex is physical, love is spiritual. You can have sex without love and love without sex; but it's most rewarding when both exist simultaneously." – Psychic Leo ext. 5265