Destined to Become a Couple
Some men find it difficult to tell if a woman likes them. So the question always becomes, "How do I know if she likes me?" Deciphering women's flirtations, hints and behaviors is a bit like fumbling through a hazy maze full of pitfalls, traps, and various other dangers of the dating game. If you're trying to decide whether or not to take things to the next level with her, there are some easily recognized signals that will point you in the right direction.
As the perfect platform for finding out all about someone, if she's sent you a friend request, written on your wall, and comments frequently on your photos and updates, it's safe to assume that she is interested in you. She wouldn't laboriously sift through your posted messages and comment on them if she wasn't hoping to get closer to you. If she consistently checks in, you know that she has gotten to know you even more through your profile's contents, and given that information, has decided she wants to see more of you!
2. The Magic Touch
It's a subtle thing, but trust a woman on this—she would never touch you unless she definitely wanted to. Some people naturally tend to be "touchers" more so than others, so you may want to take that into account with your girl by observing how often she touches others in conversation. But as a general rule, if she wasn't attracted to you, she'd never lay a hand on you. Nevertheless, it's a good idea to learn how to read these different touches. Generally, a touch like a back pat, is not the kind of physical message you are looking for. Look instead for more telling touches like a little rub on the thigh or a trailing sensual caress, instead of a punch in the arm or a vigorous head noogie. She's saying either "lover" or "brother" with her touch, so it pays to know the difference.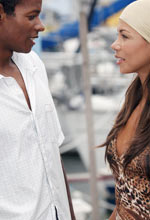 3. Making Herself Available
Many women have busy lives doing a countless number of things throughout the day. If she always seems to make time for you, this is an excellent sign that she is interested in making you a part of her life. If you are a priority in her schedule, she's already decided you are worthy of her time and she enjoys being with you.
"The eyes can be your most valuable tool in attracting a person. A wink, a shy glance, that come hither look. And then of course the smile." – Quinn ext. 5484
4. Eager to Experience
If it seems like she can't wait to experience new things with you, this is a major sign that she has enjoyed your time together thus far. She wishes to share many more moments with you and is already thinking of you two in future terms. Next step? Perhaps coupledom.
5. A Vested Interest
If she's expressing an interest in your hobbies, she's signaling a desire to know you better and wants to get closer to you through the things that matter to you. A woman willing and eager to learn and experience your interests is a keeper!
"People we attract into our life are reflections of who we are, therefore become first what it is you want to attract." – Rivers ext. 5273