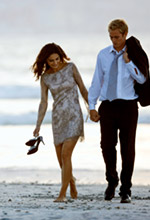 Knowing Your Sex Signs
In astrology and love, there's always something more to learn, and when it comes to sex and astrology, it's important to constantly grow your perspective. Sextrology is a book that explores the deep well of sex and Sun sign astrology. It is a fun and fresh look at love from many angles and positions. Factoring in sex, compatibility and lasting possibility, here are my "straight" picks for using sextrology to find true love:
Aries Man: You and Scorpio have looks, money and a fabulous sex life.
Aries Woman: You and regal Leo have got it for each other from the very first glance.
Taurus Man: Virgo women can be true-love personified, and the sex is pretty hot too.
Taurus Woman: You and Aries are the President and First Lady on the outside and Venus and Mars in the boudoir.
Gemini Man: For the twins, both Pisces and Libra women make good love matches and bedmates.
Gemini Woman: Hot Aries is the man for you. Together solid friendship and compatibility are not the only ties that bind.
Cancer Man: A Taurus woman can be a fantasy realized both in attraction and in bed.
Cancer Woman: You and Scorpio are magnetic from across the room, ballroom and into the bedroom.
"Attracting sex is simple. The hard part is when someone believes that sex and love are the same or that one will naturally lead to the other." – Reed ext. 5105
Leo Man: Aquarius seems to be your zodiac match complete with passion in the package.
Leo Woman: Both Cancer and Libra men offer the beginning-to-end bliss you desire in just about every way.
Virgo Man: Libra and Scorpio both do it for you full circle. In bed Libra is more smoldering that hot, but Scorpio is the scorcher.
Virgo Woman: Taurus may be an earth sign, but for you he's hot fire, as well as a great mate for a walk down the aisle.
Libra Man: It's imagination and admiration that make you and Taurus build a perfect union.
Libra Woman: Pisces man is inspired by you and you can't resist his passionate attention.
Scorpio Man: Water always seeks more water, and Cancer is the pool you languish in, and vice versa.
Scorpio Woman: Capricorn is a great yang to your yin; you never mind being the one on top of things. Nothing comes between you.
Sagittarius Man: The Libra woman is your Aphrodite, a bewitching beauty, and you make her melt.
Sagittarius Woman: With Aquarius, friendship turns to love turns to hot stuff in the steam room—quickly.
Capricorn Man: Taurus and you live a luxurious life from beginning to end. Leo is equally a solid match for you.
Capricorn Woman: A relationship born of friendship that becomes a lasting bond, Pisces is your astrological match.
Aquarius Man: Sagittarians teaches you to love tenderly and unselfishly, but the stars shine on you and Pisces.
Aquarius Woman: Gemini and you are two wild mustangs that form your own herd.
Pisces Man: Effortless bonding that just works, Capricorn is the girl for you. Taurus is equally compatible.
Pisces Woman: You feel happy to have been pierced by the archers bow. Sagittarius is ideal.
"Astrology brings so much to the table, it gives you the personality, likes and dislikes of a person. Their nature is uncovered and if it is not a match for you, it can be worked around to make it work." – Quinn ext. 5484