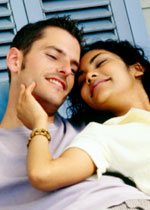 Happy Birthday to You!
2012
Love in 2012 is more dreamy than drama-filled, but a bit of both is the spice of life.
Starting May 20, the Sun enters Gemini and there's a New Moon Solar Eclipse in your sign on the same day. Chances are good that you'll have your way in whatever you're passionate about.
Venus rules your solar fifth house of romance and has been in your sign since April. Venus is in Gemini for an unusually long time, lasting until August 7. However, she's in retrograde from May 15 to June 27, but still never leaves your side, which means you'll be looking inward to your heart in matters of love. During that retrograde, Venus will pass between the Sun and Earth, a most spectacular event to behold and especially for you as a Gemini as it happens in your sign. Lovers are generally supportive during this transit, so if you experience any bumps during the retrograde period, concentrate on June 27-August 7, when things smooth out nicely.
Also, Jupiter, the planet of luck and expansion, enters Gemini on June 11 and you become the brightest penny in the zodiac for a whole year. Jupiter is the ruler of your solar seventh house of marriage and committed relationships, and it brings you romance squared. You probably can't remember the last time things went so well in this department. Jupiter will retrograde in Gemini from October 4, 2012 through January 30, 2013, so don't let holiday stress affect your relationship.
"Whatever it is that is causing you stress, most likely it is there to teach you a lesson. If you are feeling continued stress then you aren't paying attention. Sometimes the truth stings a bit." – Psychic William ext. 5131
Also, the date on which your relationship planet (Jupiter) moves from Taurus to Gemini falls in between two Gemini New Moons, another rare event. Try to think "us" and "we" as opposed to "me" and "you," and it should pay off in a big way. If the relationship is strong and healthy, it will last, and if it's not going well, this could be the period that you decide that it may not be worth the effort.
From July 3 through August 23, Mars will be in Libra, the partnership sign and also your fifth house of romance. Love is for the taking if you're single and it will be enhanced if you're already in love.
Saturn, the taskmaster, enters Scorpio on October 5. Saturn leaves your fifth house of true love after occupying it for more than two years. You should find this a great relief. The air will feel lighter.
Mars enters Sagittarius in your house of commitment on October 6 (through November 16), and Venus enters Libra in your fifth house of romance between October 28 and November 22. Love sizzles, and it's a time to really look forward to.
Venus comes for another visit on December 5, this time to your seventh house of commitments, where she'll stay until early January. The holidays should have a sweet tone to them, and your significant other could profess their undying love. If single, you attract others like moths to a flame.
"People we attract into our life are reflections of who we are, therefore become first what it is you want to attract." – Psychic Rivers ext. 5273
2013
January 30, 2013 Jupiter, still in Gemini, goes direct again. If there were any romance troubles recently, they will start to dissipate. Jupiter brings luck to all it touches. This influence will last until the end of June 2013.
The beginning of 2013 won't be as active for you as 2012 was, but sometimes no news is good news. Your thoughts may lean back towards your career in mid-April when Venus enters Taurus in your twelfth house of the higher mind, and Mars accompanies Venus a week later. Life is rich and full of reasons to feel good.
On April 25, there's a partial lunar eclipse in Scorpio, followed by an annular solar eclipse in Taurus, which is ruled by Venus, on May 10. If there are any secrets in your love life, they won't be secrets for long. Live in the spirit of being truthful with partners and those who matter to you.
On May 8, Venus brings us full circle again when she enters your sign for the remainder of the month. Celebrate your next birthday with a well-deserved vacation full of pampering and relaxation.