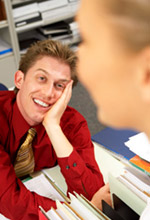 Your Boss, Your Lover?
Even though dating your boss is considered risky business, in one survey of 600 respondents, 84 people admitted to dating a superior, and 114 said they had dated a subordinate. In other words, it's possible that one third of today's workers allow romance to develop despite their boss – employee relationship. A human resources vice president reports that although romantic liaisons are discouraged, preventing them is "impossible" because of the long hours that many of us work, in addition to socializing outside of the workplace. It's a fact that many of us spend more waking hours with our coworkers than with our family and friends.
So even though your situation is not unique, it still requires caution, especially considering that sexual harassment lawsuits are most common among relationships between a boss and a subordinate, as compared to relationships between two equal coworkers. And if you work in California, the stakes are even higher, because other workers are permitted to sue if the boss's lover receives repeated preferential treatment.
Be Realistic
The first rule to follow if you have a crush on your boss is to do a reality check. Are you confusing admiration of your boss's skills with romantic feelings? Might a mentor-mentee relationship be more appropriate, and beneficial? If your feelings are genuinely romantic, are you sure that the feelings are mutual? Some people fantasize so much about having a relationship with a superior that it starts to seem real, even though the boss has no interest in romance. If the attraction is truly mutual, and if neither of you is married, the next rule is to talk to your boss about the possible consequences of becoming a couple.
Create a Plan
Dr. Lisa Mainiero, the author of Office Romance: Love, Power and Sex in the Workplace, suggests the two of you create a plan before the relationship heats up. Decide beforehand who will and will not know about your relationship and how you will behave if the relationship does not work. Would it be best for one of you to be reassigned to a different department? Psychic Gina Rose ext. 9500 agrees with this strategy. "If you are going to engage in any boss to subordinate type of relationship, have a plan, even if it means finding another job."
Practice Discretion
If you both decide to give it a try, be discreet. That means no displays of affection at all during work hours. No flirting, no sexy e-mail or text messages, no touching, no gazing into each other's eyes and no private jokes. While at work, do nothing but work. After hours, be sure to socialize in places where no one else from your company will see you.
Listen to Advice
Psychic Maryanne ext. 9146 has advised clients involved with office romances, and well as those experiencing unrequited love at the workplace. "One of the things we work on is respecting each person's timing and speed regarding relationships. And we definitely work on remembering to protect each other's career, especially in this economy."
One woman who has been married to her former boss for 17 years advises recognizing that the relationship may not last and both people involved should be ready to discuss the ramifications before they take the plunge. Then, they should be discreet, hope for the best, and go for it!