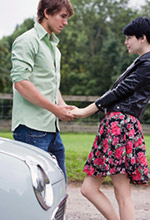 Turning a casual dating relationship into a serious relationship can be done by following five tips: let go, disclose, take care of you, work together and express yourself.
Are You Ready for the Next Step?
Many of us have decided to date again and it amazingly turns into a serious relationship overnight. The other percentage of us has casually dated without concern and it turns to mush so to speak. Don't worry if this has happened to you in the latter scenario; love finds you if you are patient. If you are eager to turn a casual relationship into a serious one you need these top five tips below. They will work in your favor in the long run.
1. Let Your Baggage Go
If you truly want to accept another into your life and if you want them to believe that they are the one you want to be with; let the past be the past. It's hard, we know. But talking about your ex constantly will never make your new love feel of any importance. It's time to have closure and if you need to find it in any form, do it before you confess your love for your new interest. If you need to go back and close doors because you can't move forward; do it.
2. Disclose Yourself
If you have issues in your past that can affect your future, talk about them. We all make mistakes and no one is above the game. Keep your confidence high, yet trust in your new partner with the issues they might have to deal with you in the future along with you. If they shake it off and stay on board, you know they are a keeper and it could be a serious relationship already. Get personalized advice, contact a psychic today!
"Real trust takes real time." – Reed ext. 5105
3. Take Care of You
The more you take care of you, (and this is not in a selfish way) the more your partner will know you are willing to join their team at improving yourselves over time. Make sure you are both on the same page and build together. You may have fall backs, but it's nothing you can't handle if you work as a team.
4. To Be Serious: Work Together
Try spending more time together whether it is family gatherings or helping your partner during a personal crisis. Just be there. Don't be taken advantage of though. Make sure you check in with your partner to see if you are on the same page. Being together for the good and bad times creates an enormous amount of trust.
5. Express Yourself
It has been said over and over again that "communication is key." There is strength in those words and if you can share what you are thinking on a daily basis or spontaneously express a feeling when you are feeling it, then you have trust there. You shouldn't have to beg someone to talk to you or ask them to show emotion. If your partner has issues with this, it can be worked on. If you are in need of more expression even after you ask and talk about your needs, you might have to really discuss if you are ready to move forward or not. Above all else, express what you desire in your relationship to see if it is truly serious.
As discussed before, a casual relationship can turn into a serious one quite quickly or it could take months to a year. There is no time lime of what makes a perfect relationship. We live, we love and we learn. Take a chance on love. It might hurt, it might not, but life is all about risk. Are you ready to take the plunge?
"Embark on an active journey to see what romantic potentials may await." – Althea ext. 9582