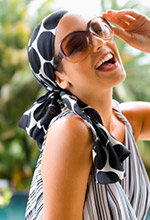 Learning From Perfection
What are the natural strengths and weaknesses of the Virgo, the most perfectionistic of all signs? Our psychics share their insight into the Virgo:
Cameron ext. 5412 explains:
"Virgos have a natural ability for keeping order and structure and for managing the finer details so that everything goes right in a situation. They have great abilities as healers. Virgos know what is needed and they take care of it. If you assign a task to a Virgo, you know that it is going to get done. Because of their natural desire for perfectionism, they often produce amazing results, because they won't give up until what they are working on is exactly right. They have high standards in their personal life and in dating, and they expect those who they choose as a partner to meet these standards.
"However, Virgos often have to make sure that their standards aren't so high that nobody can meet them. They often get a bad reputation for being impossible to please or for being too critical. Usually what is going on in those moments is that they are using their natural talent to see what is going wrong in a situation and they are trying to fix it. They want things and people to be the best that they can be, including themselves. What is essential for Virgos is timing. What they are saying may very well be true, but might seem cruel if delivered at the wrong time or without sensitivity. (Telling a friend that you think the painters did a bad job on the house she's selling right before she's about to show it isn't be very helpful.) Sometimes Virgos have to remember that things don't have to be perfect in order to enjoy or appreciate them."
Get personalized advice, contact a psychic today!
Summer ext. 9898 offers:
"The Virgos I have known are dedicated to achievement and are focused on details. They are the perfectionists of the zodiac. They possess an analytical nature and are very realistic, truly down-to- earth individuals. Sometimes their calm exterior can be mistaken for boring but they are anything but that! They usually have a great sense of humor and sharp intellect. Many are not that confident, but if given the opportunity they show everyone else up.
"Yet because Virgos are the perfectionists of the zodiac, they can get wound up and find it hard to relax. They are worrisome and sometimes perceived to be fussy. Fussing over others can sometimes be helpful, but Virgos need to let loved ones do what they want, even if it's not the way they would do it. Learn to let others make their own decisions. It is very difficult to make them content and a life lesson for them is gratitude for what's in their life in the here and now.
"Although many are not that confident, Virgos often get labeled the 'know-it-alls' of the zodiac, but they usually do know it all. Everyone should have a Virgo in their life to go to for advice but Virgo should be aware of this gift so they do not appear critical or demanding."
Fiona ext. 5178 says:
"The driving force within Virgo types is a quest for knowledge that enables them to sit late into the night with their nose in a book memorizing anything they find interesting—but it's all so interesting—and then store that knowledge in a brain lobe for later. Just as the driving quest of Jupiter-Sagittarius is the quest for Truth, the driving force for Mercury-Virgo is to learn things and compile knowledge. Mercury, the ruler of Gemini (the teacher) talks fast and expresses knowledge verbally. Mercury, the ruler of Virgo (the scribe) quietly writes it down. Just as Capricorn rules time, Virgo (co-ruled by Ceres, the goddess of the hearth and healthy food) is a stickler for details.
"Virgo fine-tunes things—attending to the details with the skill of a light-laser—asking Saturn, 'What time, exactly?' Virgo is a traditional sign: pragmatic, organized, understated in appearance and speech. Virgos are polite, perfectly groomed, knowledgeable about much, but quiet with their insight and observances. Virgo questions 'why' and then figures it out, either astrologically, since more astrologers have Virgo ascending than any other sign, or intuitively. Virgo's love meditation. It is no coincidence that more authors, draftsmen, forensic scientists, accountants, engineers, healers, quantum physicists, professors, neuro psychologists, computer geeks and metaphysicians are Virgo types. They thrive on details. It is the sign that accumulates knowledge for the ages."