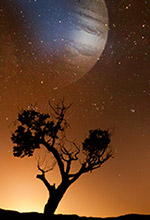 120 Days in Review
Jupiter, the planet of luck and expansion and the largest planet in the zodiac, goes retrograde every 13 months for approximately four months. Being in retrograde doesn't mean unhappiness, bad luck or poverty. It does mean a review of our interactions in some of our closest relationships and a realization of how lucky we really are to have certain people and circumstances in our lives. Want to see where you're headed during this time? Get an astrology reading from Psychic Justine ext. 5402.
How can we make the most of a Jupiter retrograde? We can look inside ourselves and review our own inner workings—how we think and react to certain situations. During this retrograde, we can imagine our outer world as existing in slow motion, giving our inner selves more time to reach deep inside and possibly tweak the relationship between our outer and inner existence—between our human selves and our higher selves.
Jupiter in the Third House
This time around Jupiter will retrograde from October 4, 2012 through January 30, 2013. Through the entire retrograde and while direct again through June 2013, Jupiter will remain in Gemini. Gemini rules the third house which in turn rules connections, communication and the need to absorb information and impart knowledge. Jupiter, in part, represents higher education as well as a curiosity about the more spiritual side of life.
A Dash of Retrograde and a Pinch of Introspection
Retrogrades are not literal—planets don't move backwards; it's a matter of perspective. Still, it's amazing that life during a Jupiter retrograde does tend to slow our pace a bit. It's a good time to look deeper within ourselves and to use the power of the retrograde period to perhaps tweak the recipes we've been cooking up in life.
During a Jupiter retrograde, life still moves forward (just a little slower), giving us time to make the necessary changes along the way. You now have a little more time to take new events into consideration when it comes to "the big picture" and make relevant changes that match current situations. It's a time to indulge all other possibilities and to adjust our thinking and get prepared for when Jupiter goes direct again. Think of where you've been and where you want to go, and match your actions to the plan.
Stay in Orbit
It's important to review, but not regress. Look at all changing circumstances as good and needed events, and not something that should worry or depress us; Jupiter is all about growth. Besides, facing our innermost qualities can be refreshing. If you've taken advantage of this time, when the retrograde ends you will see it as a rewarding and enlightening experience. You will find yourself ready to face challenges with a new spirit of strength from within that emanates outward. Most of all you'll appreciate Jupiter's expansive nature—propelling you to greater heights as your world starts to move full-speed ahead again and you find yourself confident and ready for whatever life sends your way.