Make a Good First Impression With Color
The colors that you choose to wear on your first date may suggest a lot about who you are as a person and what your character might be. Have you ever looked into the psychology of color? If not, here are some color tips on what not to wear on the first date. We sometimes just throw on whatever fits or whatever we think might be the right look for our first date and do not pay attention to color. Maybe you have a lucky purple shirt that you believe helped you win your last three softball matches or perhaps you have a pink dress that has gotten attention before. Regardless of the past, you need to know what to wear on your first date and focus on color and the message you may be sending. After all, you want to improve your romantic life don't you?
Why Wearing Fire Engine Red Might Turn on You
While most people tend to think the color red will be a hit on a first date, wearing red can go one of two ways. The color red can present passion and love, but if it is the tone of a fire engine truck it can also exude aggression and be overbearing for more sensitive types. Your date may feel insecure next to your high level of confidence and not call for a second date. It's your call. Show them you're interested without being too aggressive with tips from Psychic Paige ext. 9158.
Brown is Never a Smart Choice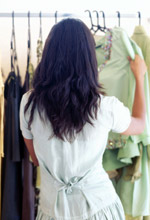 The color brown may be rich like chocolate at times but it isn't a happy-go-lucky color. It gives off the impression that you're a bit boring and do not take chances or risks. It won't give your date the idea that you are into romance and flirtation and your date may end faster than you think.
"Keep romance growing by keeping an element of something new, such as a love note by his/her pillow." – Lucy ext. 5353
Yellow Might Turn on You
While yellow represents friendship, wisdom and intuition, it just might make you a new friend, but not a new lover or long-term partner. Yellow can represent self-involvement and may put up an invisible wall between you and your date. Think of the last time you received yellow roses? They made you think warm fuzzy thoughts, didn't they, about your "friend" who gave them to you.
White Won't Get You Anywhere
When people wear white they give off the impression of cleanliness and low-maintenance and your date may think you are playing hard to get. White doesn't exactly say, "I am open to a new relationship." Save it for your wedding day.
Grey is a No-Go Color
The color grey not only says you have no imagination, but it also may present you as a "stick in the mud." Grey is for office types and going to a business meeting. It isn't for romance and will never give off a flirtatious vibe. Never wear grey on a first date as you will most likely stay in the "grey area" of romance if you do.
These are only a few of the colors that won't help you hit it off on your first date. Women should choose colors such as coral, peach and pink and low tone reds like crimson or burgundy that offer a flirtatious and romantic vibe, as well as a message that says, "I am here and ready to get to know you." Don't wear overly bright colors unless you have tanned skin and too much black may turn out a bit drab and funeral-like.

Men can get away with wearing black on the first date and should also wear colors such as burgundy, earthy greens and all tones of blue which represent loyalty and sincerity. Invest in your love life, avoid the wrong hues and choose the right color to attract more love in your life.