In the House of Knowledge
Imagine yourself in a mansion named Numerology with many rooms. You are holding a key chain full of keys. Each unlocks a door and behind each door are answers. One could be named Destiny, the next Karmic Path, but the first door to unlock is the one called Personality Number. This room is more like a reception area where you meet and greet visitors. On the wall, you see your logo that spells out your name and it reveals your personality as perceived by others. Knowledge is power and words are powerful—being able to unlock those doors through numerology is priceless.
Consonant Power
Your Personality Number is derived from the consonants (any letter other than the vowels: A, E, I, O and U) in your given name (first, middle and last). See the chart below for the letters and their numerical equivalents.
Letters to Numbers:
1 J S
2 B K T
3 C L
4 D M V
5 N W
6 F X
7 G P Y
8 H Q Z
9 R
Use this example as your guide:
Barack Hussein Obama II =
[Most modern systems disregard Jr., II, III, etc. as part of the name.]
Barack: 2 + 9 + 3 + 2 = 16
Hussein: 8 + 1 + 1 + 5 = 15
Obama: 2 + 4 = 6
Next, add all the numbers together: 16+15+6 = 37, 3 + 7 = 10. His Personality Number is 1 (Zero doesn't count.). Now, calculate yours. If you get a double digit, add them together until you get a number between 1 and 9.
If you use a professional name, try figuring it out too. Did you get a different number?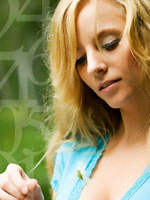 Now let's see what your number mean:
Personality Number 1
You stick out as a leader and as someone with authority. You lead the pack and are not afraid to express your creativity and face new challenges.
Catherine ext. 5116 is an experienced numerologist and she's excited to share some exciting information with you. Find out what your numbers mean!
Personality Number 2
You appear to others as your true self—warm and kindhearted. People may come to you for advice or comfort, both of which you lovingly supply.
Personality Number 3
You are attractive to the opposite sex. You can be romantic and affectionate. Surround yourself with genuine people and develop meaningful relationships for real, lasting fulfillment.
Is a lasting and fulfilling relationship on your horizon? Get a numerology reading from Amelia ext. 9772.
Personality Number 4
People see you as the rock, or the pinnacle of stability. You're reliable, practical and people, including family, depend on you and seek out your wisdom.
Personality Number 5
Your personality is nothing short of energetic and magnetic. You see life as an adventure and inspire others to follow their passions.
Personality Number 6
You are warm and compassionate and others come to you often for advice because they recognize your innate sense of fairness. Some people may try to take advantage of your good nature, so be wary.
Personality Number 7
People see you as knowledgeable and confident but not always approachable. Your independent nature can make you appear aloof, but you're just busy soaking in more wisdom to share later.
Personality Number 8
You appear to others as a powerful authority that exudes confidence and inspires it in others. You invite those around you to find empowerment through their own successes.
Get the tools you need to empower others during a chat with Psychic Mimi ext. 5522!
Personality Number 9
No matter your appearance, you get noticed when you walk into a room. You're kind and compassionate, and people are drawn to you. You are dedicated to the good of humanity.
This is a fun activity to try on yourself, but why not do it for your friends and loved ones too? What do their Personality Numbers reveal about who they are?