Man/Woman: About the Twins
Gemini is depicted as the twins, representing the duality and very humanness of this expressive sign. It's not easy to tell a Gemini's age. They have a youthful enthusiasm for life and boredom will never be an issue for them. If they ever find themselves without a challenge or adventure, they'll create one. Geminis are ruled by Mercury, so communication is their gift. So is their ability to talk an Eskimo into buying tons of ice that they really don't need but somehow they simply must have. That is Gemini's power of persuasion at its creative best. Convincing and endearing, Gemini is the consummate optimist and their minds move at lightning speeds. They do get moody and can have their darker moments, but they won't last and they'll probably be forgotten, at least by them. There is in Gemini a tendency to rationalize feelings they can't explain—their actions are almost always prompted by thought rather than emotion.
Dating a Gemini
Geminis aren't the most romantic, but they are fun to date and they have a genuine enthusiasm for the experience of dating. They want to show you the world they know and beyond and they are genuinely excited about doing so. Geminis have a bad rap for not being monogamous. They are flirty and do like to engage the group around them. But all a Gemini needs is to date someone who has many sides to their personality and who is as eccentric as they are. This ironically is what tethers them to an earthy approach to dating rather than continually floating in the clouds or looking for the next adventure.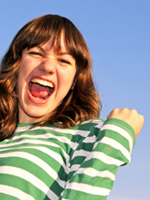 Love and the Gemini Woman
She's adventurous and exciting and that's probably what brought her to your attention, if it wasn't her unique style and mannerisms. She has a genuine zest for life and doesn't waste time on useless emotions that keep some people trapped in relationships where the excitement has withered. She goes with the natural flow of life, just at a slightly faster pace than most. She loves to invite you into her home and show off the many focal points in every room—paintings, gadgets and memorabilia. Her home is a reflection of her active mind which always seeks stimulation.
Love and the Gemini Man
The Gemini Man loves a woman who is active and engaging—she'd have to be to keep up with his changing moods and interests. Like his female counterpart, he is fun, flirtatious and always ready for an adventure. When he's constantly stimulated in a relationship his attention will not wane. He just needs to be with someone who has as many if not more sides to their personality as he does.
Need to figure out what else is going on with your Gemini? Find out with an astrological reading from Psychic Braxton ext. 5699.
Gemini's do best with someone who matches their temperament and shares their interests, which could change at a moment's notice or with no notice at all. To date and love a Gemini, you have to be adaptable and a good listener. They like to be heard.
Is love just around the corner? Get a reading from Psychic Venus ext. 9463 and find out!